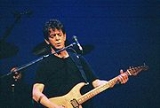 Lou Reed
Lewis Allan "Lou" Reed
is an American
rock music
Rock music
Rock music is a genre of popular music that developed during and after the 1960s, particularly in the United Kingdom and the United States. It has its roots in 1940s and 1950s rock and roll, itself heavily influenced by rhythm and blues and country music...
ian, songwriter, and photographer. He is best known as guitarist, vocalist, and principal songwriter of
The Velvet Underground
The Velvet Underground
The Velvet Underground was an American rock band formed in New York City. First active from 1964 to 1973, their best-known members were Lou Reed and John Cale, who both went on to find success as solo artists. Although experiencing little commercial success while together, the band is often cited...
, and for his successful solo career, which has spanned several decades. Though the Velvet Underground were a commercial failure in the late 1960s, the group has gained a considerable cult following in the years since its demise and has gone on to become one of the most widely cited and influential bands of the era.
My week beats your year.

In the liner notes of Metal Machine Music|Metal Machine Music
Fuck Radio Ethiopia|Radio Ethiopia man, I'm Radio Brooklyn!

On his Take No Prisoners|Take No Prisoners album
Nothing beats 2 guitars, drum and bass.

In the liner notes of New York (album)|New York
He's probably the single most untalented person I've heard in my life. He's a two-bit pretentious academic, and he can't play rock'n'roll, because he's a loser. And that's why he dresses up funny. He's not happy with himself, and I think he's right.

On Frank Zappa in Uptight: The Velvet Underground Story (1996) by Victor Bockris and Gerard Malanga