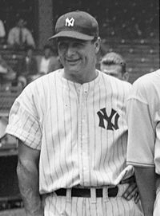 Lou Gehrig
Henry Louis "Lou" Gehrig
(June 19, 1903 – June 2, 1941), nicknamed
"The Iron Horse"
for his durability, was an
American
United States
The United States of America is a federal constitutional republic comprising fifty states and a federal district...
Major League Baseball
Major League Baseball
Major League Baseball is the highest level of professional baseball in the United States and Canada, consisting of teams that play in the National League and the American League...
first baseman
First baseman
First base, or 1B, is the first of four stations on a baseball diamond which must be touched in succession by a baserunner in order to score a run for that player's team...
. He played his entire 17-year baseball career for the
New York Yankees
New York Yankees
The New York Yankees are a professional baseball team based in the The Bronx, New York. They compete in Major League Baseball in the American League's East Division...
(1923–1939). Gehrig set several major league records. He holds the record for most career
grand slam
Grand slam (baseball)
In the sport of baseball, a grand slam is a home run hit with all three bases occupied by baserunners , thereby scoring four runs—the most possible in one play. According to The Dickson Baseball Dictionary, the term originated in the card game of contract bridge, in which a grand slam involves...
s (23). Gehrig is chiefly remembered for his prowess as a hitter, his consecutive games-played record and its subsequent longevity, and the pathos of his farewell from baseball at age 36, when he was stricken with
amyotrophic lateral sclerosis
Amyotrophic lateral sclerosis
Amyotrophic lateral sclerosis , also referred to as Lou Gehrig's disease, is a form of motor neuron disease caused by the degeneration of upper and lower neurons, located in the ventral horn of the spinal cord and the cortical neurons that provide their efferent input...
.
Gehrig was elected to the Baseball Hall of Fame in 1939.