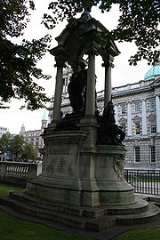 Lord Lieutenant of Down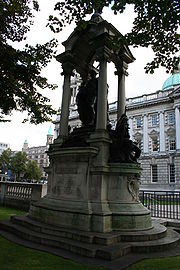 This is a list of
lords lieutenant

Lord Lieutenant

The title Lord Lieutenant is given to the British monarch's personal representatives in the United Kingdom, usually in a county or similar circumscription, with varying tasks throughout history. Usually a retired local notable, senior military officer, peer or business person is given the post...


s of County Down

County Down

-Cities:*Belfast *Newry -Large towns:*Dundonald*Newtownards*Bangor-Medium towns:...



. The office was created on 23 August 1831.
The Marquess of Downshire

Arthur Hill, 3rd Marquess of Downshire

Arthur Blundell Sandys Trumbull Hill, 3rd Marquess of Downshire KP was an Irish peer, styled Viscount Fairford from 1789 until 1793 and Earl of Hillsborough from 1793 to 1801....


7 October 1831 – 12 April 1845
The Marquess of Londonderry

Frederick Stewart, 4th Marquess of Londonderry

Frederick William Robert Stewart, 4th Marquess of Londonderry KP, PC , styled Viscount Castlereagh between 1822 and 1854, was an Anglo-Irish nobleman and Tory politician...


17 May 1845 – 1864
The Lord Dufferin and Clandeboye

Frederick Hamilton-Temple-Blackwood, 1st Marquess of Dufferin and Ava

Frederick Hamilton-Temple-Blackwood, 1st Marquess of Dufferin and Ava, KP, GCB, GCSI, GCMG, GCIE, PC was a British public servant and prominent member of Victorian society...


13 April 1864 – 12 February 1902, later Earl of Dufferin and Marquess of Dufferin and Ava
The Marquess of Londonderry

Charles Vane-Tempest-Stewart, 6th Marquess of Londonderry

Charles Stewart Vane-Tempest-Stewart, 6th Marquess of Londonderry KG, GCVO, PC, DL, JP , styled Viscount Castlereagh between 1872 and 1884, was an Anglo-Irish Conservative politician, landowner and benefactor, who served in various capacities in the Conservative administrations of the late 19th and...


16 April 1902 – 8 February 1915
Marquess of Londonderry

Charles Vane-Tempest-Stewart, 7th Marquess of Londonderry

Charles Stewart Henry Vane-Tempest-Stewart, 7th Marquess of Londonderry, KG, MVO, PC, PC , styled Lord Stewart until 1884 and Viscount Castlereagh between 1884 and 1915, was an Anglo-Irish peer and had careers in both Irish and British politics...


8 September 1915 – 11 February 1949
The Earl of Kilmorey

Francis Needham, 4th Earl of Kilmorey

Francis Charles Adelbert Henry Needham, 4th Earl of Kilmorey PC OBE , styled Viscount Newry from 1883 to 1915, was an Anglo-Irish peer.-Background:...


2 June 1949 – 1959
Sir Roland Nugent, Bt

Sir Roland Nugent, 1st Baronet

Sir Roland Thomas Nugent, 1st Baronet was a politician from Northern Ireland. He was a member of the Senate of Northern Ireland from 1936 until his resignation in 1961...


10 March 1959 – 18 August 1962
The Earl of Clanwilliam 25 September 1962 – 1979
William Norman Brann 2 October 1979 – 1990
William Stephen Brownlow 17 August 1990 – 1996
Sir William Joseph Hall 10 October 1996 – 1 August 2009
David Lindsay 25 August 2009 - Present