 Long Sam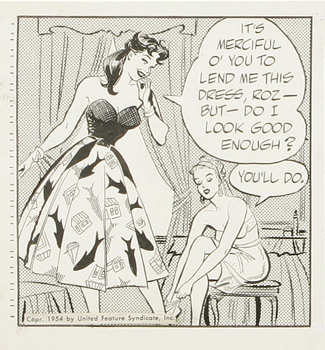 Long Sam
was an American comic strip created by
Al Capp
Al Capp
Alfred Gerald Caplin , better known as Al Capp, was an American cartoonist and humorist best known for the satirical comic strip Li'l Abner. He also wrote the comic strips Abbie an' Slats and Long Sam...
, writer-artist of
Li'l Abner
Li'l Abner
Li'l Abner is a satirical American comic strip that appeared in many newspapers in the United States, Canada and Europe, featuring a fictional clan of hillbillies in the impoverished town of Dogpatch, Kentucky. Written and drawn by Al Capp , the strip ran for 43 years, from August 13, 1934 through...
, and illustrated by
Bob Lubbers
Bob Lubbers
Bob Lubbers is an American comic strip and comic book artist best known for his work on such strips as Tarzan, Li'l Abner and Long Sam.-Biography:...
. It was syndicated by
United Feature Syndicate
United Media
United Media is a large editorial column and comic strip newspaper syndication service based in the United States, owned by The E.W. Scripps Company. It syndicates 150 comics and editorial columns worldwide. Its core business is the United Feature Syndicate and the Newspaper Enterprise Association...
from 1954 to 1962. The strip was initially written by Capp, who soon turned the duties over to his brother,
Elliot Caplin
Elliot Caplin
Elliott A. Caplin was a comic strip writer best known as the co-creator of The Heart of Juliet Jones. He was the younger brother of Al Capp, creator of Li'l Abner....
. Lubbers eventually assumed the writing duties himself in the strip's final phase.
Characters and story
Long Sam
was, like
Li'l Abner
, a
hillbilly
Hillbilly
Hillbilly is a term referring to certain people who dwell in rural, mountainous areas of the United States, primarily Appalachia but also the Ozarks. Owing to its strongly stereotypical connotations, the term is frequently considered derogatory, and so is usually offensive to those Americans of...
strip, though based on a female character. The title character, Sam, was a tall, voluptuous, naive mountain girl who had been raised in a hidden valley away from civilization by her Maw, who hates men and wishes to protect her daughter from them. Comics historian
Don Markstein
Don Markstein's Toonopedia
Don Markstein's Toonopedia was a web encyclopedia of print cartoons, comic strips and animation. Don D...
detailed the situations and characters:
Accounts differ as to exactly when United Feature began syndicating Long Sam. The best information indicates it was Monday, May 31, 1954, but other sources say it was Sunday, June 6, or Monday, June 7, of that year. Sam was similar to an earlier Capp character, Cynthia Hound-Baskerville, aka Strange Gal, who had emerged from the Great Swamp near Abner's Dogpatch to participate in the 1938 Sadie Hawkins Day race. Like Strange Gal, Long Sam was raised in isolation, by a man-hating Maw; and like Strange Gal, Long Sam was irrevocably changed when she did come into contact with civilization. The first story concerned the outside world's discovery of the remote, uncharted valley where Sam and Maw lived; and consequently, Sam's discovery of the outside world, which Maw had assured her did not exist. Maw's strategy immediately backfired—instead of protecting Sam from the wiles of men, her lack of experience had rendered her exceptionally vulnerable to their charms. Throughout the strip's run, Sam would alternate between visits with Maw in her valley, and excursions outside; and a recurring schtick was that when outside, Sam would usually fall in love with the first man she met.
The strip is considered an example of
good girl art
Good girl art
Good girl art is found in drawings or paintings which feature a strong emphasis on attractive women no matter what the subject or situation. GGA was most commonly featured in comic books, pulp magazines and crime fiction...
, and Lubbers was chosen as the artist for his facility with attractive females in the syndicated
Tarzan
Tarzan
Tarzan is a fictional character, an archetypal feral child raised in the African jungles by the Mangani "great apes"; he later experiences civilization only to largely reject it and return to the wild as a heroic adventurer...
strip. In 1956,
Long Sam
featured the lyrics to a song, "Lonesome and Disgusted", which had a promotional tie-in when
Coral Records
Coral Records
Coral Records was a Decca Records subsidiary formed in 1949. It recorded pop artists McGuire Sisters and Teresa Brewer, as well as rock and roller Buddy Holly....
issued a recording of the song by Capp and Lubbers with music by
Dave Lambert
Dave Lambert
David Alden Lambert , was an American jazz lyricist, singer, and an originator of vocalese. He was best known as a member of the trio Lambert, Hendricks & Ross. Lambert spent a lifetime experimenting with the human voice, and expanding the possibilities of its use within jazz.Lambert's band debut...
. The vocalist on the recording was the comedian and voice actor
Leo De Lyon
Leo De Lyon
Leo De Lyon is an American voice actor famous for his role as Spook and Brain in the cartoon Top Cat. In the mid and late 1970s he performed on stage as pianist and vocal entertainer and was musical director for several artists s.a. Sandler and Young...
.
External links