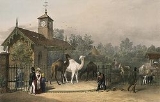 London Zoo
London Zoo
is the world's oldest scientific
zoo
Zoo
A zoological garden, zoological park, menagerie, or zoo is a facility in which animals are confined within enclosures, displayed to the public, and in which they may also be bred....
. It was opened in London on 27 April 1828, and was originally intended to be used as a collection for
scientific study
Science
Science is a systematic enterprise that builds and organizes knowledge in the form of testable explanations and predictions about the universe...
. It was eventually opened to the public in 1847. Today it houses a collection of 755
species
Species
In biology, a species is one of the basic units of biological classification and a taxonomic rank. A species is often defined as a group of organisms capable of interbreeding and producing fertile offspring. While in many cases this definition is adequate, more precise or differing measures are...
of
animal
Animal
Animals are a major group of multicellular, eukaryotic organisms of the kingdom Animalia or Metazoa. Their body plan eventually becomes fixed as they develop, although some undergo a process of metamorphosis later on in their life. Most animals are motile, meaning they can move spontaneously and...
s, with 16,802 individuals, making it one of the largest collections in the United Kingdom.
It is managed under the aegis of the
Zoological Society of London
Zoological Society of London
The Zoological Society of London is a charity devoted to the worldwide conservation of animals and their habitats...
(established in 1826), and is situated at the northern edge of
Regent's Park
Regent's Park
Regent's Park is one of the Royal Parks of London. It is in the north-western part of central London, partly in the City of Westminster and partly in the London Borough of Camden...
, on the boundary line between
City of Westminster
City of Westminster
The City of Westminster is a London borough occupying much of the central area of London, England, including most of the West End. It is located to the west of and adjoining the ancient City of London, directly to the east of the Royal Borough of Kensington and Chelsea, and its southern boundary...
and
Camden
Camden Town
-Economy:In recent years, entertainment-related businesses and a Holiday Inn have moved into the area. A number of retail and food chain outlets have replaced independent shops driven out by high rents and redevelopment. Restaurants have thrived, with the variety of culinary traditions found in...
(the
Regent's Canal
Regent's Canal
Regent's Canal is a canal across an area just north of central London, England. It provides a link from the Paddington arm of the Grand Union Canal, just north-west of Paddington Basin in the west, to the Limehouse Basin and the River Thames in east London....
runs through it).