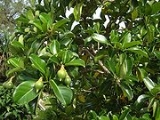 Loganiaceae
Loganiaceae
are a
family
Family (biology)
In biological classification, family is* a taxonomic rank. Other well-known ranks are life, domain, kingdom, phylum, class, order, genus, and species, with family fitting between order and genus. As for the other well-known ranks, there is the option of an immediately lower rank, indicated by the...
of
flowering plant
Flowering plant
The flowering plants , also known as Angiospermae or Magnoliophyta, are the most diverse group of land plants. Angiosperms are seed-producing plants like the gymnosperms and can be distinguished from the gymnosperms by a series of synapomorphies...
s classified in order
Gentianales
Gentianales
Gentianales are an order of flowering plants, included within the asterid group of dicotyledons.The circumscription of Gentiales in the Cronquist system included a broadly defined Loganiaceae , Retziaceae, Gentianaceae, Saccifoliaceae, Apocynaceae, and Asclepiadaceae...
. The family includes 13
genera
Genus
In biology, a genus is a low-level taxonomic rank used in the biological classification of living and fossil organisms, which is an example of definition by genus and differentia...
, distributed around the world's tropics.
Earlier treatments of the family have included up to 29 genera. Phylogenetic studies have demonstrated that this broadly defined Loganiaceae was a polyphyletic assemblage, and numerous genera have been removed from Loganiaceae to other families (sometimes in other orders), e.g.,
Gentianaceae
Gentianaceae
Gentianaceae are a family of flowering plants of 87 genera and over 1500 species. Flowers are actinomorphic and bisexual with fused sepals and petals. The stamens are attached to the inside of the petals and alternate with the corolla lobes. There is a glandular disk at the base of the gynoecium,...
,
Gelsemiaceae
Gelsemiaceae
Gelsemiaceae is a family of flowering plants, belonging to order Gentianales. The family contains only two genera: Gelsemium and Mostuea. Gelsemium has three species, one native to Southeast Asia and southern China and two native to Southeastern United States, Mexico and Central America...
, Plocospermataceae, Tetrachondraceae, Buddlejaceae, and
Gesneriaceae
Gesneriaceae
Gesneriaceae is a family of flowering plants consisting of ca. 150 genera and ca. 3,200 species in the Old World and New World tropics and subtropics, with a very small number extending to temperate areas. Many species have colorful and showy flowers and are cultivated as ornamental plants.Most...
. Some classification schemes, notably
Takhtajan
Armen Takhtajan
Armen Leonovich Takhtajan or Takhtajian , was a Soviet-Armenian botanist, one of the most important figures in 20th century plant evolution and systematics and biogeography. His other interests included morphology of flowering plants, paleobotany, and the flora of the Caucasus...
's, break the remaining Loganiaceae even further, into as many as four families; Strychnaceae, Antoniaceae, Spigeliaceae and Loganiaceae. Recent DNA studies of the Gentianales have found strong support for the Loganiaceae (as defined here) as a
clade
Clade
A clade is a group consisting of a species and all its descendants. In the terms of biological systematics, a clade is a single "branch" on the "tree of life". The idea that such a "natural group" of organisms should be grouped together and given a taxonomic name is central to biological...
containing 13 genera.
Genera
Antonia

Antonia (plant)

Antonia is a plant genus in the family Loganiaceae.-External links:...


Pohl
Bonyunia R. H. Schomb. ex Progel
Gardneria Wall.
Geniostoma

Geniostoma

Geniostoma is a genus of plant in family Loganiaceae.Species include:* Geniostoma astylum* Geniostoma balansaeanum* Geniostoma borbonicum* Geniostoma clavigerum* Geniostoma confertiflorum* Geniostoma gagneae...


J. R. Forst. & G.Forst.
Labordia

Labordia

Labordia is a genus of plant in family Loganiaceae. There are 16 species all endemic to Hawaii.Species include:* Labordia cyrtandrae, H.St.John* Labordia helleri* Labordia hirtella, Mann* Labordia kaalae, Forbes...


Gaudich.
Logania

Logania

Logania is a genus of plants belonging to the family Loganiaceae. Native to Australia and New Zealand the genus at least 24 species including herbs, shrubs, trees and climbers.Species include:*Logania albiflora Druce...


R.Br.
Mitrasacme

Mitrasacme

Mitrasacme is a genus of plant in family Loganiaceae. Around 40 species occur, mostly in Australia, though also extending to various parts of Asia and the Pacific Islands. Two species also occur in China....


Labill.
Excluded genera
Androya H.Perrier -> Scrophulariaceae

Scrophulariaceae

Scrophulariaceae, the figwort family, are a family of flowering plants. The plants are annual or perennial herbs with flowers with bilateral or rarely radial symmetry. Members of the Scrophulariaceae have a cosmopolitan distribution, with the majority found in temperate areas, including...



Anthocleista

Anthocleista

Anthocleista is a genus of tree- and shrub-like tropical gentians in the Gentian family , tribe Potalieae, subtribe Potaliinae. There are about 50 species in the genus Anthocleista, native mainly to tropical Africa, Madagascar and the Mascarene Islands...


Afzel. ex R.Br. -> Gentianaceae

Gentianaceae

Gentianaceae are a family of flowering plants of 87 genera and over 1500 species. Flowers are actinomorphic and bisexual with fused sepals and petals. The stamens are attached to the inside of the petals and alternate with the corolla lobes. There is a glandular disk at the base of the gynoecium,...



Buddleja

Buddleja

Buddleja, often misspelled Buddleia but commonly known as the Butterfly Bush, is a genus of flowering plants. The generic name bestowed by Linnaeus honours the Reverend Adam Buddle , a botanist and rector in Essex, England, but who could never have seen a plant of the genus.-Classification:The...


L. -> Scrophulariaceae
Desfontainia Ruiz & Pav. -> Columelliaceae

Columelliaceae

Columelliaceae is a family of trees and shrubs native to the Andes of South America.In the APG II taxonomy they are placed in the order Lamiales, but a 2008 study suggested that they are sister to the Bruniaceae, and the Angiosperm Phylogeny Website proposes incorporating this finding by placing...



Emorya Torr. -> Scrophulariaceae
Fagraea

Fagraea

Fagraea is a genus of plant in family Gentianaceae, formerly belongs to Loganiaceae.Species include:* Fagraea berteriana * Fagraea carstensensis* Fagraea crenulata* Fagraea elliptica...


Thunb. -> Gentianaceae
Gelsemium

Gelsemium

Gelsemium is a genus of flowering plants belonging to family Gelsemiaceae. The genus contains three species of shrubs to straggling or twining climbers. Two species are native to North America, and one to China and Southeast Asia....


Juss. -> Gelsemiaceae

Gelsemiaceae

Gelsemiaceae is a family of flowering plants, belonging to order Gentianales. The family contains only two genera: Gelsemium and Mostuea. Gelsemium has three species, one native to Southeast Asia and southern China and two native to Southeastern United States, Mexico and Central America...



Gomphostigma Turcz. -> Scrophulariaceae

Mostuea Didr. -> Gelsemiaceae
Nuxia

Nuxia

Nuxia is a genus of plant in the family Stilbaceae. It contains the following species :* Nuxia glomerulata, I.Verd.* Nuxia congesta, a hardwood tree living on the slopes of Mount Kenya...


Comm. ex Lam. -> Stilbaceae

Stilbaceae

Stilbaceae is a family of flowering plants in the order Lamiales.Genera include:*Anastrabe E. Mey. ex Benth.*Bowkeria Harv.*Campylostachys Kunth*Charadrophila Marloth*Euthystachys A. DC.*Halleria L.*Ixianthes Benth....



Peltanthera Benth. -> Gesneriaceae

Gesneriaceae

Gesneriaceae is a family of flowering plants consisting of ca. 150 genera and ca. 3,200 species in the Old World and New World tropics and subtropics, with a very small number extending to temperate areas. Many species have colorful and showy flowers and are cultivated as ornamental plants.Most...



Plocosperma Benth. -> Plocospermataceae
Polypremum L. -> Tetrachondraceae
Potalia Aubl. -> Gentianaceae
Retzia Thunb. -> Stilbaceae