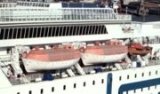 Lifeboat (shipboard)
A lifeboat is a small, rigid or inflatable
watercraft
Watercraft
A watercraft is a vessel or craft designed to move across or through water. The name is derived from the term "craft" which was used to describe all types of water going vessels...
carried for emergency evacuation in the event of a disaster aboard ship. In the military, a lifeboat may be referred to as a
whaleboat
Whaleboat
A whaleboat is a type of open boat that is relatively narrow and pointed at both ends, enabling it to move either forwards or backwards equally well. It was originally developed for whaling, and later became popular for work along beaches, since it does not need to be turned around for beaching or...
,
dinghy
Dinghy
A dinghy is a type of small boat, often carried or towed for use as a ship's boat by a larger vessel. It is a loanword from either Bengali or Urdu. The term can also refer to small racing yachts or recreational open sailing boats. Utility dinghies are usually rowboats or have an outboard motor,...
, or
gig
Captain's Gig
The captain's gig is a boat used on naval ships as the captain's private taxi. It is a catchall phrase for this type of craft and over the years it has gradually increased in size, changed with the advent of new technologies for locomotion, and been crafted from increasingly more durable...
. The
ship's tender
Ship's tender
A ship's tender, usually referred to as a tender, is a boat, or a larger ship used to service a ship, generally by transporting people and/or supplies to and from shore or another ship...
s of
cruise ship
Cruise ship
A cruise ship or cruise liner is a passenger ship used for pleasure voyages, where the voyage itself and the ship's amenities are part of the experience, as well as the different destinations along the way...
s often double as lifeboats. Recreational sailors sometimes carry small proactive lifeboats instead of inflatable life rafts. These boats are unsinkable, and can be sailed to safety. Lifeboat drills are required by law on larger commercial ships.
Inflatable lifeboats may be equipped with auto-inflation (carbon dioxide or nitrogen) canisters or mechanical pumps.