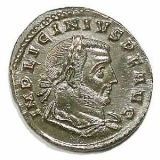 Licinius
For other Romans of this name, see Licinia (gens).
Licinius I
( c. 263 – 325), was
Roman Emperor
Roman Emperor
The Roman emperor was the ruler of the Roman State during the imperial period . The Romans had no single term for the office although at any given time, a given title was associated with the emperor...
from 308 to 324. Co-author of the Edict of Milan that granted official toleration to Christians in the Roman Empire, for the majority of his reign he was the rival of
Constantine I
Constantine I
Constantine the Great , also known as Constantine I or Saint Constantine, was Roman Emperor from 306 to 337. Well known for being the first Roman emperor to convert to Christianity, Constantine and co-Emperor Licinius issued the Edict of Milan in 313, which proclaimed religious tolerance of all...
. He was finally defeated at the
Battle of Adrianople
Battle of Adrianople (324)
The Battle of Adrianople was fought on July 3, 324 during a Roman civil war, the second to be waged between the two emperors Constantine I and Licinius; Licinius suffered a heavy defeat.-Background:...
, before being executed on the orders of Constantine I.
Born to a
Dacian
Dacians
The Dacians were an Indo-European people, very close or part of the Thracians. Dacians were the ancient inhabitants of Dacia...
peasant family in
Moesia
Moesia
Moesia was an ancient region and later Roman province situated in the Balkans, along the south bank of the Danube River. It included territories of modern-day Southern Serbia , Northern Republic of Macedonia, Northern Bulgaria, Romanian Dobrudja, Southern Moldova, and Budjak .-History:In ancient...
Superior, Licinius accompanied his close childhood friend, the future emperor
Galerius
Galerius
Galerius , was Roman Emperor from 305 to 311. During his reign he campaigned, aided by Diocletian, against the Sassanid Empire, sacking their capital Ctesiphon in 299. He also campaigned across the Danube against the Carpi, defeating them in 297 and 300...
, on the Persian expedition in 298.
313 Roman emperor Licinius unifies the entire Eastern Roman Empire under his rule.
314 Roman Emperor Licinius is defeated by his colleague Constantine I at the Battle of Cibalae, and loses his European territories.
317 Crispus and Constantine II, sons of Roman Emperor Constantine I, and Licinius Iunior, son of Emperor Licinius, are made ''Caesares''
324 Battle of Adrianople Constantine I defeats Licinius, who flees to Byzantium.
324 Constantine the Great decisively defeats Licinius in the Battle of Chrysopolis, establishing Constantine's sole control over the Roman Empire.
324 Licinius abdicates his position as Roman Emperor.