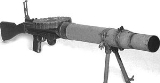 Lewis Gun
The
Lewis Gun
is a
World War I
World War I
World War I , which was predominantly called the World War or the Great War from its occurrence until 1939, and the First World War or World War I thereafter, was a major war centred in Europe that began on 28 July 1914 and lasted until 11 November 1918...
–era
light machine gun
Light machine gun
A light machine gun is a machine gun designed to be employed by an individual soldier, with or without an assistant, as an infantry support weapon. Light machine guns are often used as squad automatic weapons.-Characteristics:...
of American design that was perfected and widely used by the
British Empire
British Empire
The British Empire comprised the dominions, colonies, protectorates, mandates and other territories ruled or administered by the United Kingdom. It originated with the overseas colonies and trading posts established by England in the late 16th and early 17th centuries. At its height, it was the...
. It was first used in combat in World War I, and continued in service with a number of armed forces through to the end of the
Korean War
Korean War
The Korean War was a conventional war between South Korea, supported by the United Nations, and North Korea, supported by the People's Republic of China , with military material aid from the Soviet Union...
. It is visually distinctive because of a wide tubular cooling shroud around the barrel and a top-mounted
drum-pan magazine
Magazine (firearm)
A magazine is an ammunition storage and feeding device within or attached to a repeating firearm. Magazines may be integral to the firearm or removable . The magazine functions by moving the cartridges stored in the magazine into a position where they may be loaded into the chamber by the action...
. It was commonly used as an aircraft machine gun, almost always with the cooling shroud removed, during both World Wars.
The Lewis Gun was invented by
US Army
United States Army
The United States Army is the main branch of the United States Armed Forces responsible for land-based military operations. It is the largest and oldest established branch of the U.S. military, and is one of seven U.S. uniformed services...
Colonel
Isaac Newton Lewis
Isaac Newton Lewis
Isaac Newton Lewis was an American soldier and inventor. He was graduated from the United States Military Academy in 1884 and was commissioned second lieutenant in the Second Artillery...
in 1911, based on initial work by Samuel Maclean.