 Landscape garden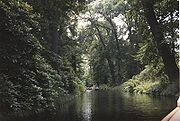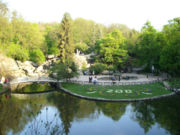 The term
landscape garden
is often used to describe the
English garden
English garden
The English garden, also called English landscape park , is a style of Landscape garden which emerged in England in the early 18th century, and spread across Europe, replacing the more formal, symmetrical Garden à la française of the 17th century as the principal gardening style of Europe. The...
design style characteristic of the eighteenth century, that swept the Continent replacing the formal
Renaissance garden
Italian Renaissance garden
The Italian Renaissance garden was a new style of garden which emerged in the late 15th century at villas in Rome and Florence, inspired by classical ideals of order and beauty, and intended for the pleasure of the view of the garden and the landscape beyond, for contemplation, and for the...
and
Garden à la française
Garden à la française
The French formal garden, also called jardin à la française, is a style of garden based on symmetry and the principle of imposing order over nature. It reached its apogee in the 17th century with the creation of the Gardens of Versailles, designed for Louis XIV by the landscape architect André Le...
models. The work of
Lancelot 'Capability' Brown
Capability Brown
Lancelot Brown , more commonly known as Capability Brown, was an English landscape architect. He is remembered as "the last of the great English eighteenth-century artists to be accorded his due", and "England's greatest gardener". He designed over 170 parks, many of which still endure...
is particularly influential.
The term was not however used to any great extent during the eighteenth century. Its period of popularity was the nineteenth century at which time the classical style of serpentine curves and clumps had become unfashionable. In the twentieth century, the term 'landscape gardener' began to be used by garden contractors.
The term English garden or English park is used in many languages to refer to the style of informal landscape gardening which was popular in the United Kingdom from the mid 18th century to the early 19th century, and is particularly associated with Capability Brown. An example is the Englischer Garten or "English Garden", in Munich, Germany. The term is not used in this sense in English (except when discussing foreign language usage).
See also
English garden

English garden

The English garden, also called English landscape park , is a style of Landscape garden which emerged in England in the early 18th century, and spread across Europe, replacing the more formal, symmetrical Garden à la française of the 17th century as the principal gardening style of Europe. The...



Landscape gardens topics
French landscape garden

French landscape garden

The French landscape garden is a style of garden inspired by idealized Italian landscapes and the romantic paintings of Hubert Robert, Claude Lorrain and Nicolas Poussin, European ideas about Chinese gardens, and the philosophy of Jean-Jacques Rousseau...



Landscape design history
External links