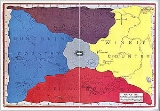 Land of Oz
Oz
is a
fantasy region
Fantasy world
A fantasy world is a fictional universe used in fantasy novels and games. Typical worlds involve magic or magical abilities and often, but not always, either a medieval or futuristic theme...
containing four lands under the rule of
one monarch
Emperor
An emperor is a monarch, usually the sovereign ruler of an empire or another type of imperial realm. Empress, the female equivalent, may indicate an emperor's wife or a woman who rules in her own right...
.
It was first introduced in
The Wonderful Wizard of Oz
The Wonderful Wizard of Oz
The Wonderful Wizard of Oz is a children's novel written by L. Frank Baum and illustrated by W. W. Denslow. Originally published by the George M. Hill Company in Chicago on May 17, 1900, it has since been reprinted numerous times, most often under the name The Wizard of Oz, which is the name of...
(1900) by
L. Frank Baum
L. Frank Baum
Lyman Frank Baum was an American author of children's books, best known for writing The Wonderful Wizard of Oz...
, one of many fantasy countries that he created for his books. It achieved a popularity that none of his other works attained, and after four years, he returned to it. The land was described and expanded upon in the Oz Books. An attempt to cut off the production of the series with
The Emerald City of Oz
The Emerald City of Oz
The Emerald City of Oz is the sixth of L. Frank Baum's fourteen Land of Oz books. It was also adapted into a Canadian animated film in 1987. Originally published on July 20, 1910, it is the story of Dorothy Gale and her Uncle Henry and Aunt Em coming to live in Oz permanently...
, by ending the story with Oz being isolated from the rest of the world, did not succeed owing to readers' reactions and Baum's financial need to write successful books.
The canonical
demonym
Demonym
A demonym , also referred to as a gentilic, is a name for a resident of a locality. A demonym is usually – though not always – derived from the name of the locality; thus, the demonym for the people of England is English, and the demonym for the people of Italy is Italian, yet, in english, the one...
for Oz is "Ozite".