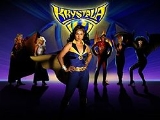 Krystala
Krystala
was a daily fantasy/sci-fi/adventure/soap opera serial(superserye/fantaserye) from the
Philippines
Philippines
The Philippines , officially known as the Republic of the Philippines , is a country in Southeast Asia in the western Pacific Ocean. To its north across the Luzon Strait lies Taiwan. West across the South China Sea sits Vietnam...
, where it was produced by and aired on
ABS-CBN
ABS-CBN
ABS–CBN Corporation is a Philippine-based media conglomerate. It is the Philippines' largest media and entertainment conglomerate. The corporation was the merger of Alto Broadcasting System which at that time owned by James Lindenberg and Antonio Quirino, and the Chronicle Broadcasting Network ...
from October 8, 2004 to April 15, 2005. The show also aired simultaneously on
The Filipino Channel
The Filipino Channel
The Filipino Channel is an international television station owned by the Philippine-based multimedia conglomerate ABS-CBN Corporation. The network is currently available in Asia Pacific, Australia, Canada, Europe, Middle East, and the United States. It has over two million subscribers in these...
and on a one week delay on International Channel (Now AZN-TV) in the
United States
United States
The United States of America is a federal constitutional republic comprising fifty states and a federal district...
.
Premise
The series followed a young woman named Tala, who accidentally unearths a crystal that contained the spirit of the legendary
diwata
Diwata
In Philippine mythology, a Diwata , also known as Encantada, is a mythological figure similar to fairies or nymphs. They are nature spirits and live one with mother earth...
sorceress, Luwalhati, who was imprisoned a hundred years earlier by a devilish being, Harimon. As a promise to Luwalhati, Tala agrees to help her rid the world of evil spirits that, once in the possession or contact of human beings, can bring or unleash corruption and mayhem onto the world.
Knowing that kind of fury would lead to Manila, where most of them would blend into the city's large population, Tala decides to leave her Madulom tribe to move into the area, where she would blend into the mix as a normal working girl, working at a
shopping mall
Shopping mall
A shopping mall, shopping centre, shopping arcade, shopping precinct or simply mall is one or more buildings forming a complex of shops representing merchandisers, with interconnecting walkways enabling visitors to easily walk from unit to unit, along with a parking area — a modern, indoor version...
.
She would learn, however, that most of the spirits also have ties to Harimon, who was also set free by a young girl named Zorah. (Tala would later learn that she was her mother, who had abandoned her as a child after she became possessed by Harimon.) Upon learning that Harimon and his band of co-horts (The fierce Super Z, female
vampire
Vampire
Vampires are mythological or folkloric beings who subsist by feeding on the life essence of living creatures, regardless of whether they are undead or a living person...
Kabagona, flamboyant
drag queen
Drag queen
A drag queen is a man who dresses, and usually acts, like a caricature woman often for the purpose of entertaining. There are many kinds of drag artists and they vary greatly, from professionals who have starred in films to people who just try it once. Drag queens also vary by class and culture and...
Terracota and
shapeshifter
ShapeShifter
ShapeShifter is an Application Enhancer plugin for Mac OS X developed by Unsanity that allows the user to make system-wide modifications to the appearance of the operating system's graphical interface by applying GUI skins through "injection" into running code and without modifying system files,...
Luminax) have resurfaced to unleash and finish the sinister plans to unveil a more evil being bent on taking over the human world, Tala uses her crystal to transform herself into the gold-and-blue clad super-sexy superheroine Krystala and uses her powers to protect those who are helpless... and to protect the people who are her close friends.
Character Background
Faith, the daughter of Zorina and Martin de Gracia. When she was little, her family lived in the province far away from the city. One day, the little girl and her parents were being chased. Her mother told her to run far away from home before an evil man named Bacchus, kills the whole family (Bacchus and his men succeeded in killing the child's father and had kidnapped the child's mother).
A couple from the legendary Madulom tribe, Aleta and Joram, found the crying child near the grave of their newly buried daughter. Aleta was thinking that she should adopt Faith even though her husband and the tribes people think that adopting an outsider is unlucky. But since Aleta felt sorry for the child, she chose to adopt and name her as Tala, raising her with the guidance of Ima, the village fairy.
Years later, Tala was walking in the forest until she stumbled upon a secret cave. As she went in, she spotted a crystal that was just standing on a huge rock in the middle of the cave. Then a voice of a fairy name Luwalhati came out from the crystal. The fairy that was trapped in the crystal told her that she was the chosen one, the one anointed by the Mountain's Diwatas (fairies) to save the world by ridding it of evil engkantos (supernatural beings). Tala then picked up the crystal and Luwalhati was released from the crystal. Also, the crystal had given Tala amazing powers and by saying "Sa kapangyarihan ng kristal, ako ang iyong sugo, Krystala!", she was able to turn into the super heroine known as Krystala.
Reception
The show gained a 36% rating on its opening night, cementing Krystala as a successful hit among Philippine televiewers especially in the Mega Manila ratings where ABS-CBN started to lose its hold of the area. This caused many viewers from the channel's rival network,
GMA Network
GMA Network
GMA Network is a major commercial television & radio network in the Philippines. GMA Network is owned by GMA Network, Inc. a publicly listed company...
, jump to ABS-CBN. It was known that GMA Network would lead in Mega Manila but ABS-CBN still led in the nationwide ratings.
Its highest rating was its 3rd episode, 43.1% and an average of 33.1% (Mega Manila ratings).
Super Kontrabidas (The Villains)
Emilio Garcia - as Harimon- King of All Demons, creator of the red stones (mga pulang bato) which gives powers to whoever possesses one.
Alma Concepcion - as Kabagona- A woman who has the features and abilities of a bat.
Manny Distor - as Darius- Man with the superspeed ability as well as fighting skills sufficient enough to land several painful blows to our superheroine
Michael Flores - as Terracotta a.k.a. Badinger Z- A homosexual villain who has the ability to multiply, to scream really loud, to shoot lasers with his magical red stone (in a form of a ring).
Rugene Ramos - as Bagon- A child who has features and abilities of Speed.
Angelica Jones

Angelica Jones

Angelica Jones is a singer actress in the Philippines-Personal life:Born Angelica B. Alarva on January 20, 1983 in Brgy Santisimo Rosario, San Pablo, Laguna...


- as a Flowerette- One of the two villains created in the computer world by Terracotta. Skilled martial artist, their dual attacks proved too much for even Krystala, actually beating her into submission
Kit-Kat - as a Flowerette- One of the two villains created in the computer world by Terracotta. Skilled martial artist, their dual attacks proved too much for even Krystala, actually beating her into submission.
Jeffrey Santos - as Likido- A man who has the ability to transform into any form of liquid, and can turn things into liquid. Has repeatedly evaded Krystala because of this ability, even discovering her secret identity.
Gabe Mercado - as Gravigat- A man who can manipulate gravity. Despite seemingly incompetent at first glance (which may have led Krystala into thinking that she could easily beat him), his powers afford him a tremendous advantage over many foes. In fact, he humiliated Krystala on their first encounter where, after Krystala made her presence known to Gravigat while still hovering in mid-air, he lessened the gravity centered around the heroine's location where she was still hovering, this caused her to lose control over her flight powers, preventing her from landing, trapping her in the air. Gravigat is notably the first villain to be able to use Krystala's powers against her, leaving her defenseless as he made his getaway. The gravity around Krystala only returned to normal after Gravigat left the vicinity. Unfortunately, by this time she had also canceled her own levitation as she attempted to fight the opposing force of anti-gravity that was keeping her stuck unsupported in the air a while back, she fell face-first to the floor
Desiree del Valle

Desiree del Valle

Desirée Lois del Valle Dunham, better known by her screen name Desiree del Valle , is a Filipina actress born from American father and Filipina mother...


- as Luminax- A woman who has the ability to turn into light, manipulate light, and attack with light (ex; light blast, lasers that shoot out of her eyes).
Chin Chin Gutierrez

Chin Chin Gutierrez

Maria Carminia Lourdes Cynthia Arnaldo Gutierrez , better known as Chin Chin Gutierrez, is a Filipino actress and environmentalist.-Early life:...


- as Super Z- A woman with the ability to absorb the powers of other supernatural beings. She can use the powers that she absorbed.
Sid Lucero

Sid Lucero

Timothy Mark Pimentel Eigenmann better known by his stagename Sid Lucero , is a Filipino television and film actor. He won the 31st Gawad Urian Best Actor award for his role in Selda.-Career:...


- as Sugo Ng Dilim- The main villain in the TV series.
Krystala's Allies
Angel Jacob - as Luwalhati
Pokwang

Pokwang

- Filmography :TelevisionFilms-External links:...


- as Fantasya
Hero Angeles

Hero Angeles

Hero Angeles is a Filipino actor. Hero Angeles bested four other contestants in the Grand Finals for the title "Grand Teen Questor" in the first season of ABS-CBN's popular reality star search in the Philippines, Star Circle Quest.- Career:After bagging the title as the first "Grand Teen Questor"...


- as Loverboy/Mysterio
Sandara Park

Sandara Park

Park Sandara , better known as Dara , is a South Korean idol singer, actress, television host and model. She is best known as being a member and the Director of Communications of the Korean girl group 2NE1. However, she first gained major popularity on ABS-CBN's Star Circle Quest during her stay in...


- as Kim
Aaron Junatas - as Mokong/Mighty M
Roence Santos - as Patotina
Kristoffer Horace Neudeck

Kristoffer Horace Neudeck

Kristoffer Horace A. Neudeck is a Filipino Child actor and a Model he was previously associated with Star Magic-Career:...


- Brutus/Morphino
Powers/abilities
Krystal Blast - Energy blasts that shoot out of her hands
Superhuman strength
Flight
Speed
Krystal shield
Ability to create earthquakes
Teleport to other worlds
Skilled in martial arts
Items/weapons
The Crystal (Krystal) - the crystal Tala uses to transform into Krystala and back again.
Krystal shield
Bow and arrow
Blade
Sword
Cape - Krystala's cape is near-indestructible, and could contain a mighty explosion if draped over a bomb
Soundtrack
This is the original soundtrack of 'Krystala'. In the TV series, the theme song, 'Super Krystala', was sung by Aegis, but the Krystala soundtrack featured Sheryn Regis singing the theme song instead.
Super Krystala - Sheryn Regis
Yakap Mo - Dianne Dela Fuente
Ba't Di Mo Pagbigyan (Duet) - King And Maoui David
Sana - Mike Empeno
Shoobee Doo Wop - Sheryn Regis
Kapangyarihan - Gloc 9
Sa Pangarap Na Lang - Marinel Santos
Ikaw Lang Pala - Josh Santana
If I Believed - Carol Banawa
Laban Krystala - Gloc 9 w/ JM
See also
Isang Lakas (Upcoming series that will feature Krystala in a cameo appearance)
External links