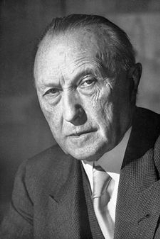 Konrad Adenauer
Konrad Hermann Joseph Adenauer (ˈkɔnʁaːt ˈhɛɐman ˈjoːzɛf ˈaːdənaʊɐ; 5 January 1876 – 19 April 1967) was a
German
Germany
Germany , officially the Federal Republic of Germany , is a federal parliamentary republic in Europe. The country consists of 16 states while the capital and largest city is Berlin. Germany covers an area of 357,021 km2 and has a largely temperate seasonal climate...
statesman. He was the chancellor of the West Germany from 1949 to 1963. He is widely recognised as a person who led his country from the ruins of
World War II
World War II
World War II, or the Second World War , was a global conflict lasting from 1939 to 1945, involving most of the world's nations—including all of the great powers—eventually forming two opposing military alliances: the Allies and the Axis...
to a powerful and prosperous nation that had forged close relations with old enemies
France
France
The French Republic , The French Republic , The French Republic , (commonly known as France , is a unitary semi-presidential republic in Western Europe with several overseas territories and islands located on other continents and in the Indian, Pacific, and Atlantic oceans. Metropolitan France...
, the
United States
United States
The United States of America is a federal constitutional republic comprising fifty states and a federal district...
and
Israel
Israel
The State of Israel is a parliamentary republic located in the Middle East, along the eastern shore of the Mediterranean Sea...
. In his years in power Germany achieved prosperity, democracy, stability and respect.
We will never forget. If it takes us five or ten or twenty years, we will never rest until we get our revenge.

As quoted by General Sir Charles Fergusson|Charles Fergusson in a memorandum (10 July 1945), recalling conversations with Adenauer in 1918-1919, at the end of World War I. As published in Adenauer : The Father of the New Germany (2000) by Charles Williams
I wish that an English statesman might once have spoken of us as Western Europeans.

Adenauer's remarks on an Associated Press interview (5 October 1945)
Make Europe your revenge.

To French PM Guy Mollet after British PM Sir Anthony Eden unilaterally cancelled the Suez operation, thus angering Mollet. (6 November 1956), as quoted in Europe's Troubled Peace, 1945-2000 (2006) by Tom Buchanan, p.102
In view of the fact that God limited the intelligence of man, it seems unfair that he did not also limit his stupidity.

As quoted in Through Russian Eyes : President Kennedy's 1036 Days (1973) by Anatoliĭ Andreevich Gromyko, p. 128
We all live under the same sky, but we don't all have the same horizon. In an instant age, perhaps we must relearn the ancient truth that patience, too, has its victories.

Quoted in The Atlantic Community Quarterly v.14-15 1976-1978, p. 200