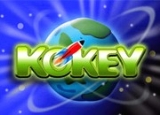 Kokey
Kokey
is an
ABS-CBN
ABS-CBN
ABS–CBN Corporation is a Philippine-based media conglomerate. It is the Philippines' largest media and entertainment conglomerate. The corporation was the merger of Alto Broadcasting System which at that time owned by James Lindenberg and Antonio Quirino, and the Chronicle Broadcasting Network ...
fantaserye
Fantaserye and telefantasya
Telefantasya or Fantaserye is a genre of Philippine television programming which mixes soap opera , fantasy, myth, magic and enchantment. The episodes are usually 30 minutes long and have a daily slot in the evening primetime row.- Usage :...
which was premiered on Primetime Bida August 6, 2007. It is a show that was greatly criticized because of its one-dimensionality and lack of educational value. Other sources of hostility include potentially harmful acts such as lying with no punishment or scolding from the alien character in order to protect it.
Film
The first Kokey encounter happened thirteen years ago. It was in 1997 when we were first introduced to the cute alien who had a penchant for befriending human beings. And his best friend then was the pre-pubescent Carlo Aquino in the movie entitled Kokey.It was directed by the same man who brought Cedie and Sarah, Ang Munting Prinsesa on the big screen---Romy Suzara.
Plot
An alien named Kokey from the planet Yekok had crash-landed on Earth in his ship. He eventually befriends a young orphan named Bong, and he helps Kokey to fix his ship so that he could return to planet Yekok. Kokey also befriends other people - Anna, the sister of Bong, Abie, an aspiring pilot who will help build Kokey's ship, and Peping. Meanwhile, Kokey's enemy, Korokoy, followed him to Earth in order to find a crystal (which Kokey values the most). Bong, Anna, Abie & Peping must help Kokey to find the lost crystal, fix his ship in time, and defeat Korokoy. One night, as Kokey & the others were sleeping on a leaf (on their many adventures, they shrank at one point), Bong stayed awake & looked up at the sky, thinking sadly about his friend Kokey & what his life would look like without him (when he leaves for planet Yekok in the distant future). After singing a quite sad song about Kokey, he finally drifts off to sleep. The next day, they continue their search for the crystal. They encountered many mysteries & many problems they had to solve, but eventually they found the crystal & defeated Korokoy. Kokey's mother, Kakay, soon went to Earth to help his son. It turns out that Kokey's father, Kokoy, & Korokoy were enemies too. When they had found the crystal & defeated Korokoy, he said his final words: "I shall come back again!". Then Kokey & Kakay went off to Yekok in their spaceship. Once they were high in the night sky, his mother asked him, "Where's the crystal?" Then Kokey groped around & was alarmed to find out that he left the crystal with Bong! When his mother found out, they both cried, "AAAAAAAAAH!" as the spaceship flew away.
Main cast
Kokey - voiced by Noel Urbano and Charles Bonzon is an alien whose spaceship crashed on earth.
Joshua Cadeliña as Bonifacio "Bong" Calugdan/Gabriel Allegre - an orphan.
Julia Barretto as Anna Calugdan / Anna Allegre - the nine-year old orphan.
Ruffa Gutierrez

Ruffa Gutiérrez

-External links:**...


as Trining Calugdan - the wife of Nanding.
Redford White

Redford White

Cipriano "Dodoy" Cermeño II , better known as Redford White, was a Filipino actor and comedian who was active from the late 1970s until the late 2000s.-Early life and career:...


as Nanding Calugdan - the adoptive father of Bong and Visayan businessman.
Eugene Domingo

Eugene Domingo

Eugene Domingo is a Filipina theater, movie and television actress. She is the only actress in the Philippine entertainment history to have participated in six films produced by eight different Filipino production companies...


as Charisse Dalusong- the archenemy of Trining. She is an ex-girlfriend of Nanding.
Joji Lorenzo as Marcial Dalusong
Quintin Alianza - the love interest of kokey.
Zanjoe Marudo

Zanjoe Marudo

Zanjoe Acuesta Marudo is a Filipino actor and model. He was former housemate of Pinoy Big Brother: Celebrity Edition and became one of the Big Four along with Bianca Gonzalez, John Prats, and the big winner Keanna Reeves....


as Abie - an aspiring pilot who will help Kokey build his spaceship.
Megan Young

Megan Young

Megan Lynne Young is a Filipina-American actress who is a member of Star Magic Batch 15. She is best known for being a former celebrity housemate on Pinoy Big Brother: Celebrity Edition 2 . Megan is an alumnus of ABS-CBN's rival television station GMA's StarStruck and also a member of GMA Artist...


as Shane - a social worker who works for an orphanage where Bong resides.
Rhap Salazar

Rhap Salazar

Rhap Salazar is a Filipino singer/songwriter and recently now a movie actor. He has tied for first place in the 2010 Awit Awards in the category "Best Performance by a New Male Recording Artist" He has won two awards at the 13th World Championships of Performing Arts both the Junior Grand...


as Jimboy Dalusong - the only son of Marcial and Charisse.
Nova Villa

Nova Villa

-TV shows:*Sugo Mga Kapatid as Mommy Gabby *Futbolilits as Lola Ester Cortes * Nita Negrita as Nana Ima *My Driver Sweet Lover as Aling White *Luv Crazy as Various...


as Sor. Aida Sanchez
Quintin Alianza as Peping who later on dies from a getting hit by a jeepney
Boots Anson-Roa

Boots Anson-Roa

Maria Elisa Cristobal-Anson or Boots Anson-Roa is an award-winning actress, columnist, editor, and lecturer.-Early life:She was born on January 30, 1945...


as Doña Ingrid Allegre
Mylene Dizon

Mylene Dizon

Mylene Lilibeth Dizon is a Filipina actress and model. She is a member of ABS-CBN's elite circle of homegrown talents properly named Star Magic, being an alumna of Batch 2...


as Myra Viloria-Allegre - the true mother of Bong.
Ryan Eigenmann

Ryan Eigenmann

Ryan Jonathan Villa Eigenmann is a Filipino actor known for his villain roles. He often plays as a bad guy in the shows.-Early life:Ryan Eigenmann was born on October 3, 1978. He is one of the third generation of the Mesa-Gil clan of actors. His grandparents are musician Eddie Mesa and actress...


as Nicassio Allegre / Korokoy
Special Participation
Sid Lucero

Sid Lucero

Timothy Mark Pimentel Eigenmann better known by his stagename Sid Lucero , is a Filipino television and film actor. He won the 31st Gawad Urian Best Actor award for his role in Selda.-Career:...


as Isidro Allegre
DJ Durano

DJ Durano

DJ Durano is a Filipino actor, model, singer and recording artist.-Career:DJ's early career in entertainment started as part of That's Entertainment of German Moreno. During the show, he is termed as the lady killer and obviously, it is true...


as Dr. DJ Caparas
Jenny Miller

Jenny Miller

Jenny Miller is a Filipina actress. She is known on her role as Beverly Castro in the TV remake of the 1986 film Babangon Ako't Dudurugin Kita that aired on GMA Network in 2008.-Career:...


as Divina
Francis Magundayao as Elias
Kakai Bautista
Igi Boy Flores
Yuki Kadooka
Mica Roy Torre
Mark Joshua Sarayot
Joshua Tecson
Yong An Chiu
Cheska Billiones
Mike Lloren
Vice Ganda

Vice Ganda

Vice Ganda is a Filipino comedian, host, actor and recording artist. He is a regular host/judge on ABS-CBN's talent show Showtime and starred on his two films, one of which considered as the highest-grossing film in Philippine cinema....



Kakay - Kokey's Umamay (Mother)
Kokoy - Kokey's Tatay (Father)
Korokoy - Kokey's mortal enemy
Big Brother (voice)
Sequel
On ABS-CBN's Trade Launch for its upcoming shows for 2009, a preview was shown for the sequel with the title, "Kokey Returns". On November 2009, Kokey was included in the 21st Advertising Congress as ABS-CBN's upcoming 2010 programs. The sequel was retitled
Kokey @ Ako
Kokey @ Ako
Kokey @ Ako is a Filipino comedy-fantasy primetime series to be aired in ABS-CBN. The series is the sequel to the 2007 series, Kokey...
.
External links