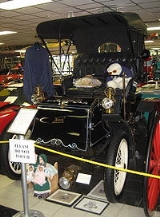 Knox Automobile
The
Knox Automobile Company
was a manufacturer of
automobile
Automobile
An automobile, autocar, motor car or car is a wheeled motor vehicle used for transporting passengers, which also carries its own engine or motor...
s in
Springfield
Springfield, Massachusetts
Springfield is the most populous city in Western New England, and the seat of Hampden County, Massachusetts, United States. Springfield sits on the eastern bank of the Connecticut River near its confluence with three rivers; the western Westfield River, the eastern Chicopee River, and the eastern...
,
Massachusetts
Massachusetts
The Commonwealth of Massachusetts is a state in the New England region of the northeastern United States of America. It is bordered by Rhode Island and Connecticut to the south, New York to the west, and Vermont and New Hampshire to the north; at its east lies the Atlantic Ocean. As of the 2010...
,
United States
United States
The United States of America is a federal constitutional republic comprising fifty states and a federal district...
between 1900 and 1914. Knox also built
truck
Truck
A truck or lorry is a motor vehicle designed to transport cargo. Trucks vary greatly in size, power, and configuration, with the smallest being mechanically similar to an automobile...
s and
farm
Farm
A farm is an area of land, or, for aquaculture, lake, river or sea, including various structures, devoted primarily to the practice of producing and managing food , fibres and, increasingly, fuel. It is the basic production facility in food production. Farms may be owned and operated by a single...
tractor
Tractor
A tractor is a vehicle specifically designed to deliver a high tractive effort at slow speeds, for the purposes of hauling a trailer or machinery used in agriculture or construction...
s until 1924.
History
The Knox Automobile Company was established in 1900 and built 15 cars their first year.
The 1904
Knox
was a
runabout
Runabout (car)
Runabouts were a popular car body style at the beginning of the 20th Century. They were small, inexpensive, open cars. Most runabouts had just a single row of seats, providing seating for two passengers. Many also had a tonneau at the rear to provide optional seating for four or five...
model. The angle iron-framed car weighed 1850 lb (839 kg) and used side springs. It could seat 2 passengers.
3 or 4 wheels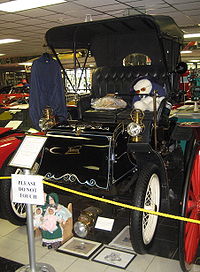 Initially, only three-wheelers were offered. Four-wheeled
runabouts
Runabout (car)
Runabouts were a popular car body style at the beginning of the 20th Century. They were small, inexpensive, open cars. Most runabouts had just a single row of seats, providing seating for two passengers. Many also had a tonneau at the rear to provide optional seating for four or five...
soon followed.
Back seat driver
In some models, passengers rode up front over the front axle while the driver and another passenger sat in the back over the engine.
The "Old Porcupine" engine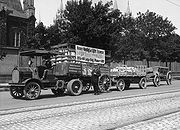 The flat-mounted air-cooled single-cylinder engine (which led to it sometimes being referred to as "Old Porcupine", due to the numerous projections on the cylinder cases) was situated at the center of the car and produced 8 hp (6 kW). This engine was also called a "hedgehog". A 2-speed planetary transmission was fitted.
Competitive pricing
The "Knoxmobile" sold for US$1350. By contrast, the
Ford
Ford Motor Company
Ford Motor Company is an American multinational automaker based in Dearborn, Michigan, a suburb of Detroit. The automaker was founded by Henry Ford and incorporated on June 16, 1903. In addition to the Ford and Lincoln brands, Ford also owns a small stake in Mazda in Japan and Aston Martin in the UK...
Model F
Ford Model F
The Ford Model F is an automobile produced by the Ford Motor Company. It was a development of the Model A and Model C, but was larger, more modern, and more luxurious. It was a four-seater phaeton with running boards and a side-entrance tonneau standard. Production started in 1905 and ended in 1906...
was US$2000, the
FAL
Fal-Car
The Fal-Car, originally known as A Car Without A Name, was an American automobile manufactured from 1909 until 1914 by a company that identified itself in advertisements only as Department C, 19 North May Street, Chicago. The address had previously been the location where the Reliable-Dayton...
US$1750, the Cole 30 and Colt Runabout each US$1500, the Oakland 40 US$1600, and the Enger 40 US$2000, while the high-volume
Oldsmobile
Oldsmobile
Oldsmobile was a brand of American automobile produced for most of its existence by General Motors. It was founded by Ransom E. Olds in 1897. In its 107-year history, it produced 35.2 million cars, including at least 14 million built at its Lansing, Michigan factory...
Runabout
Oldsmobile Curved Dash
The gasoline powered Curved Dash Oldsmobile is credited as being the first mass-produced automobile, meaning that it was built on an assembly line using interchangeable parts. It was introduced by the Oldsmobile company in 1901 and produced through 1907...
ran US$650,
Western
Western Tool Works (automobile company)
Western Tool Works was a pioneering brass era automobile manufacturer in Galesburg, Illinois.Western in 1905 produced the Gale Model A, an open roadster, for sale at US$500, which was less than high-volume Oldsmobile Runabout, at US$650, the Ford "Doctor's Car" at US$850, or the Holsman high...
's Gale Model A US$500 and the
Brush Runabout
Brush Motor Car Company
This article is about a USA auto-maker. For the British rail-locomotive company, see Brush TractionBrush Motor Company, or the "Brush Runabout Company," based in Detroit, Michigan, was founded by Alanson Partridge Brush , who designed a light car with a wooden chassis This article is about a USA...
was US$485.
A larger Knox
tonneau
Tonneau
right|thumb|260px|1903 [[Ford Model A |Ford Model A]] rear-door TonneauTonneau cover , describes a hard or soft cover used to protect unoccupied passenger seats in a convertible, roadster, or for a pickup truck bed. Hard tonneau covers open by a hinging or folding mechanism while soft covers open...
model, equipped with a straight-2 engine producing 16 hp (11.9 kW), was also produced, for US$2000.
See also
Brass Era car

Brass Era car

The automotive Brass Era is the first period of automotive manufacturing, named for the prominent brass fittings used during this time for such things as lights and radiators. It extends from the first commercial automobiles marketed in the 1890s until about World War I...



List of defunct United States automobile manufacturers
List of car makes