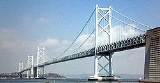 Kita Bisan-Seto Bridge
The is a
suspension bridge
Suspension bridge
A suspension bridge is a type of bridge in which the deck is hung below suspension cables on vertical suspenders. Outside Tibet and Bhutan, where the first examples of this type of bridge were built in the 15th century, this type of bridge dates from the early 19th century...
with a center span of 990 metres (3,248 ft). It is the 19th
largest suspension bridge in the world
. The span carries roadway and the
Seto-Ōhashi Line
railway tracks. It is part of the Seto-Shuo Expressway and with the other five bridges along this route are collectively known as the Seto-Ōhashi Bridges. The nearly identical is located immediately to the south.
See also
Honshu-Shikoku Bridge Project

Honshu-Shikoku Bridge Project

The Honshū-Shikoku Bridge Project is a system of bridges connecting the islands of Honshū and Shikoku across the Inland Sea of Japan, which were previously only connected by ferry. It consists of three major connections. All bridges are now controlled by the and the...



Great Seto Bridge

Great Seto Bridge

The , or Seto-Ohashi Bridge, is a series of double deck bridges connecting Okayama and Kagawa prefectures in Japan across a series of five small islands in the Seto Inland Sea. Built over the period 1978–88, it is one of the three routes of the Honshū-Shikoku Bridge Project connecting Honshū and...



External links