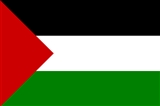 Kingdom of Hejaz
The
Kingdom of Hejaz
was a state in the
Hejaz
Hejaz
al-Hejaz, also Hijaz is a region in the west of present-day Saudi Arabia. Defined primarily by its western border on the Red Sea, it extends from Haql on the Gulf of Aqaba to Jizan. Its main city is Jeddah, but it is probably better known for the Islamic holy cities of Mecca and Medina...
region, ruled by the
Hashemite
Hashemite
Hashemite is the Latinate version of the , transliteration: Hāšimī, and traditionally refers to those belonging to the Banu Hashim, or "clan of Hashim", a clan within the larger Quraish tribe...
family. The kingdom was annexed by Nejd and merged into the Kingdom of Nejd and Hejaz in the mid 1920s, which would eventually be known as
Saudi Arabia
Saudi Arabia
The Kingdom of Saudi Arabia , commonly known in British English as Saudi Arabia and in Arabic as as-Sa'ūdiyyah , is the largest state in Western Asia by land area, constituting the bulk of the Arabian Peninsula, and the second-largest in the Arab World...
in 1932.
Kings of Hejaz
Husain ibn Ali

Hussein bin Ali, Sharif of Mecca

Sayyid Hussein bin Ali, GCB was the Sharif of Mecca, and Emir of Mecca from 1908 until 1917, when he proclaimed himself King of Hejaz, which received international recognition. He initiated the Arab Revolt in 1916 against the increasingly nationalistic Ottoman Empire during the course of the...


(10 June 1916 - 3 October 1924)
Ali bin Hussein (3 October 1924 - 19 December 1925)
See also