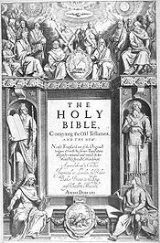 King James Version of the Bible
The
Authorized Version
, commonly known as the
King James Version
,
King James Bible
or
KJV
, is an
English
Early Modern English
Early Modern English is the stage of the English language used from about the end of the Middle English period to 1650. Thus, the first edition of the King James Bible and the works of William Shakespeare both belong to the late phase of Early Modern English...
translation of the Christian Bible by the
Church of England
Church of England
The Church of England is the officially established Christian church in England and the Mother Church of the worldwide Anglican Communion. The church considers itself within the tradition of Western Christianity and dates its formal establishment principally to the mission to England by St...
begun in 1604 and completed in 1611. First printed by the King's Printer
Robert Barker
Robert Barker (printer)
Robert Barker was a printer to James I of England and son of Christopher Barker , printer to Queen Elizabeth I. Barker was most notably the printer of the King James Bible, arguably one of the most influential and important books ever printed in the English language...
, this was the third official translation into English; the first having been the
Great Bible
Great Bible
The Great Bible was the first authorized edition of the Bible in English, authorized by King Henry VIII of England to be read aloud in the church services of the Church of England. The Great Bible was prepared by Myles Coverdale, working under commission of Sir Thomas Cromwell, Secretary to Henry...
commissioned by the Church of England in the reign of King
Henry VIII
Henry VIII of England
Henry VIII was King of England from 21 April 1509 until his death. He was Lord, and later King, of Ireland, as well as continuing the nominal claim by the English monarchs to the Kingdom of France...
, and the second was the Bishop's Bible of 1568.