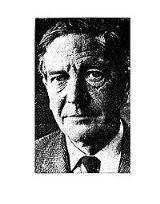 Kim Philby
Harold Adrian Russell "Kim" Philby
(1 January 1912 – 11 May 1988) was a high-ranking member of British intelligence who worked as a
spy
Espionage
Espionage or spying involves an individual obtaining information that is considered secret or confidential without the permission of the holder of the information. Espionage is inherently clandestine, lest the legitimate holder of the information change plans or take other countermeasures once it...
for and later defected to the
Soviet Union
Soviet Union
The Soviet Union , officially the Union of Soviet Socialist Republics , was a constitutionally socialist state that existed in Eurasia between 1922 and 1991....
. A communist, he served as an
NKVD
NKVD
The People's Commissariat for Internal Affairs was the public and secret police organization of the Soviet Union that directly executed the rule of power of the Soviets, including political repression, during the era of Joseph Stalin....
and
KGB
KGB
The KGB was the commonly used acronym for the . It was the national security agency of the Soviet Union from 1954 until 1991, and was the premier internal security, intelligence, and secret police organization during that time.The State Security Agency of the Republic of Belarus currently uses the...
operative.
In 1963, Philby was revealed to be a member of the spy ring now known as the
Cambridge Five
Cambridge Five
The Cambridge Five was a ring of spies, recruited in part by Russian talent spotter Arnold Deutsch in the United Kingdom, who passed information to the Soviet Union during World War II and at least into the early 1950s...
, the other members of which were Donald Maclean,
Guy Burgess
Guy Burgess
Guy Francis De Moncy Burgess was a British-born intelligence officer and double agent, who worked for the Soviet Union. He was part of the Cambridge Five spy ring that betrayed Western secrets to the Soviets before and during the Cold War...
,
Anthony Blunt
Anthony Blunt
Anthony Frederick Blunt , was a British art historian who was exposed as a Soviet spy late in his life.Blunt was Professor of the History of Art at the University of London, director of the Courtauld Institute of Art, Surveyor of the King's Pictures and London...
and
John Cairncross
John Cairncross
John Cairncross was a British intelligence officer during World War II, who passed secrets to the Soviet Union...
. Of the five, Philby is believed to have been most successful in providing secret information to the Soviet Union.