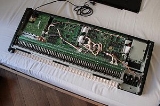 Keyboard matrix (music)
Most electronic
keyboard
Musical keyboard
A musical keyboard is the set of adjacent depressible levers or keys on a musical instrument, particularly the piano. Keyboards typically contain keys for playing the twelve notes of the Western musical scale, with a combination of larger, longer keys and smaller, shorter keys that repeats at the...
s used in
synthesizer
Synthesizer
A synthesizer is an electronic instrument capable of producing sounds by generating electrical signals of different frequencies. These electrical signals are played through a loudspeaker or set of headphones...
s,
electronic organ
Electronic organ
An electronic organ is an electronic keyboard instrument which was derived from the harmonium, pipe organ and theatre organ. Originally, it was designed to imitate the sound of pipe organs, theatre organs, band sounds, or orchestral sounds....
s, and
digital piano
Digital piano
A digital piano is a modern electronic musical instrument, different from the electronic keyboard, designed to serve primarily as an alternative to a traditional piano, both in the way it feels to play and in the sound produced. It is meant to provide an accurate simulation of a real piano. Some...
s use a
keyboard matrix circuit
to connect the switches for each key. In this matrix circuit, the rows and columns are made up of wiring. Depressing a key connects a circuit in the matrix, which causes the tone generation mechanism to be triggered.
Description
Without a matrix circuit, a 61-key keyboard would have to have 62 wires connected to the integrated circuit of the keyboard, which would be an awkward and thick bundle of wiring. With the matrix circuit, the entire 61-key keyboard can send signals to the integrated circuit with 16 wires -- they can be drawn schematically as a "key matrix" of 8 column wires and 8 row wires, with a mechanical switch at every intersection. The electronic or digital keyboard controller scans all of the columns, to determine if a key has been pressed. If a key in the column has been pressed, then the controller scan the rows, to determine which row has been activated. In a manner analogous to the children's board game "Battleship!", the keyboard controller determines which key has been pressed, and then plays that key's note. This entire process takes place so quickly that the performer is not aware of the delay.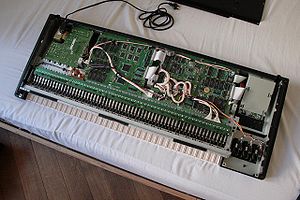 The matrix circuit approach used in musical keyboards is also used in other types of non-musical keyboards, such as in the keypads for calculators and the "QWERTY" alphabetic and numeric keyboards used to enter information into computers.
The same matrix circuit approach is also used
in many
pinball
Pinball
Pinball is a type of arcade game, usually coin-operated, where a player attempts to score points by manipulating one or more metal balls on a playfield inside a glass-covered case called a pinball machine. The primary objective of the game is to score as many points as possible...
machines.
Matrix circuits for instruments that are intended to be used in a
monophonic
Monophony
In music, monophony is the simplest of textures, consisting of melody without accompanying harmony. This may be realized as just one note at a time, or with the same note duplicated at the octave . If the entire melody is sung by two voices or a choir with an interval between the notes or in...
fashion (playing only one note at a time) such as a bass pedal keyboard are simpler than matrix circuits for instruments that will be used to play
polyphonically
Polyphony
In music, polyphony is a texture consisting of two or more independent melodic voices, as opposed to music with just one voice or music with one dominant melodic voice accompanied by chords ....
(multiple notes at once). For keyboards that will be used to play multiple-note chords or multiple-part melodies, the matrix circuit needs to have a diode soldered into the circuit for each key. The
diode
Diode
In electronics, a diode is a type of two-terminal electronic component with a nonlinear current–voltage characteristic. A semiconductor diode, the most common type today, is a crystalline piece of semiconductor material connected to two electrical terminals...
acts like a one-way valve in a water plumbing system. Without the diodes, the current would flow "backwards" up the matrix when several keys were pressed at once, which would trigger unwanted notes ("phantom keys") or mask intended notes ("phantom key blocking").
The diodes must be fitted at the switch (in series),
not at the microprocessor end of the wires.
Monophonic instruments and most low-cost computer keyboards reduce costs by leaving out most or all of those diodes.
To avoid "phantom keys", the keyboard controller in modern low-cost computer keyboards will ignore further key presses once two keys (other than
modifier key
Modifier key
In computing, a modifier key is a special key on a computer keyboard that modifies the normal action of another key when the two are pressed in combination....
s) have been pressed down, which is known as jamming.
See also