 Keweenaw Fault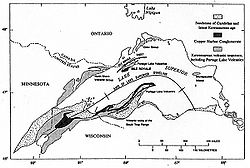 The
Keweenaw Fault
is a geological feature that bisects the
Keweenaw Peninsula
Keweenaw Peninsula
The Keweenaw Peninsula is the northern-most part of Michigan's Upper Peninsula. It projects into Lake Superior and was the site of the first copper boom in the United States. As of the 2000 census, its population was roughly 43,200...
of the
Upper Peninsula of Michigan
Upper Peninsula of Michigan
The Upper Peninsula of Michigan is the northern of the two major land masses that make up the U.S. state of Michigan. It is commonly referred to as the Upper Peninsula, the U.P., or Upper Michigan. It is also known as the land "above the Bridge" linking the two peninsulas. The peninsula is bounded...
. The fault is the boundary between the mid continent
rift
Rift
In geology, a rift or chasm is a place where the Earth's crust and lithosphere are being pulled apart and is an example of extensional tectonics....
and adjacent
Precambrian
Precambrian
The Precambrian is the name which describes the large span of time in Earth's history before the current Phanerozoic Eon, and is a Supereon divided into several eons of the geologic time scale...
terrain. The peninsula, itself, is the eastern side of a large
syncline
Syncline
In structural geology, a syncline is a fold, with younger layers closer to the center of the structure. A synclinorium is a large syncline with superimposed smaller folds. Synclines are typically a downward fold, termed a synformal syncline In structural geology, a syncline is a fold, with younger...
beneath
Lake Superior
Lake Superior
Lake Superior is the largest of the five traditionally-demarcated Great Lakes of North America. It is bounded to the north by the Canadian province of Ontario and the U.S. state of Minnesota, and to the south by the U.S. states of Wisconsin and Michigan. It is the largest freshwater lake in the...
. The western side forms
Isle Royale
Isle Royale
Isle Royale is an island of the Great Lakes, located in the northwest of Lake Superior, and part of the state of Michigan. The island and the 450 surrounding smaller islands and waters make up Isle Royale National Park....
.
The Natural Wall
One significant feature along the Keweenaw Fault is known as the
Natural Wall
. The
Wall
is a near-vertical slope of
sandstone
Sandstone
Sandstone is a sedimentary rock composed mainly of sand-sized minerals or rock grains.Most sandstone is composed of quartz and/or feldspar because these are the most common minerals in the Earth's crust. Like sand, sandstone may be any colour, but the most common colours are tan, brown, yellow,...
at a maximum inclination of 85°.