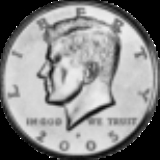 Kennedy half dollar
Within hours of the
assassination of John F. Kennedy
Assassination of John F. Kennedy
John Fitzgerald Kennedy, the thirty-fifth President of the United States, was assassinated at 12:30 p.m. Central Standard Time on Friday, November 22, 1963, in Dealey Plaza, Dallas, Texas...
on November 22, 1963, Mint Director Eva Adams called Chief Engraver
Gilroy Roberts
Gilroy Roberts
Gilroy Roberts was a sculptor, gemstone carver, and the ninth Chief Engraver of the United States Mint between 1948 and 1964. He designed the obverse of the United States Kennedy half dollar, which was first issued in 1964. After he retired from the U.S...
, informing him that serious consideration was being given to depicting Kennedy on one of the larger silver coins: either the silver dollar, half dollar, or
quarter dollar
Quarter (United States coin)
A quarter dollar, commonly shortened to quarter, is a coin worth ¼ of a United States dollar, or 25 cents. The quarter has been produced since 1796. The choice of 25¢ as a denomination, as opposed to 20¢ which is more common in other parts of the world, originated with the practice of dividing...
. Adams called Roberts again on November 27 and authorized the project, stating that the late president's widow, Jacqueline Kennedy preferred that he be depicted on the half dollar, replacing the
previous design
Franklin half dollar
The Franklin half dollar is a coin that was struck by the United States Mint from 1948 to 1963. The fifty-cent piece pictures Founding Father Benjamin Franklin on the obverse and the Liberty Bell on the reverse. A small eagle was placed to the right of the bell to fulfill the legal requirement...
of
Benjamin Franklin
Benjamin Franklin
Dr. Benjamin Franklin was one of the Founding Fathers of the United States. A noted polymath, Franklin was a leading author, printer, political theorist, politician, postmaster, scientist, musician, inventor, satirist, civic activist, statesman, and diplomat...
.