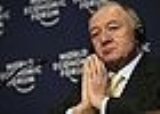 Ken Livingstone
Kenneth Robert "Ken" Livingstone
(born 17 June 1945) is an English politician who is currently a member of the centrist to centre-left
Labour Party
Labour Party (UK)
The Labour Party is a centre-left democratic socialist party in the United Kingdom. It surpassed the Liberal Party in general elections during the early 1920s, forming minority governments under Ramsay MacDonald in 1924 and 1929-1931. The party was in a wartime coalition from 1940 to 1945, after...
. During his political career, he has twice held the
leading political role
in
London local government
Local government in London
Local government in London takes place in two tiers; a city-wide, strategic tier and a local tier. City-wide administration is coordinated by the Greater London Authority , while local administration is carried out by 33 smaller authorities.-Upper tier:...
, firstly as Leader of the
Greater London Council
Greater London Council
The Greater London Council was the top-tier local government administrative body for Greater London from 1965 to 1986. It replaced the earlier London County Council which had covered a much smaller area...
from 1981 until the council was abolished in 1986, and secondly as the first elected
Mayor of London
Mayor of London
The Mayor of London is an elected politician who, along with the London Assembly of 25 members, is accountable for the strategic government of Greater London. Conservative Boris Johnson has held the position since 4 May 2008...
, a post he held from its creation in 2000 until 2008.
You cannot just have a socialist revolution in Norwood and nowhere else.

Statement to the South London Press in 1977 on moving constituencies away from Norwood in the 1977 GLC election. Quoted in Citizen Ken (1984) by John Carvel, p. 61
There is now a desperate need for a London-wide left caucus of those interested in the GLC and local councils so that we can compare and discuss what is happening in each borough.

As quoted in Socialist Organiser, the newspaper of the Socialist Campaign for a Labour Victory (March 1979)
I feel a degree of regret that Marshall did not push on and say 'Abolish the GLC', because I think it would be a major saving and would have released massive resources for more productive use.

In a Greater London Council|GLC debate on the Marshall Report into GLC powers, 1979, quoted in "Beyond Our Ken" (1985) by Andrew Forrester, Stewart Lansley and Robin Pauley, p. 43
The H-block protest is part of the struggle to bring about a free, united Ireland. They have my support, and they have the support of the majority of the Labour Party rank and file. I have been consistently in favour of withdrawal from Ireland and to get away from the idea that it is some sort of campaign against terrorism. It is in fact the last colonial war.

Evening Standard (21 July 1981)
I can't think of a more appalling contrast between this wedding beanfeast and what is happening in Ireland.

Referring to the wedding of the Prince of Wales and Lady Diana Spencer, in Daily Mail (29 July 1981).
Everyone is bisexual. Almost everyone has the sexual potential for anything.

Speech to Harrow Gay Unity Group (18 August 1981)
He asked to see me again. I think he wants me for my body.

Remarks to the press after meeting Secretary of State for Transport Norman Fowler|Norman Fowler (18 June 1981), quoted in Citizen Ken (1984) by John Carvel, p. 107.
The next election will bring an influx of over 120 new MPs who will be overwhelmingly on the Left.

The Guardian (23 September 1985)
I take a much more pragmatic view than many people on the Left about working with Neil Kinnock. Kinnock represents the best vehicle possible for achieving socialism now.

Ham and High (21 February, 1986)