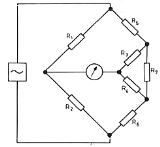 Kelvin bridge
A
Kelvin bridge
is a
measuring instrument
Measuring instrument
In the physical sciences, quality assurance, and engineering, measurement is the activity of obtaining and comparing physical quantities of real-world objects and events. Established standard objects and events are used as units, and the process of measurement gives a number relating the item...
invented by
William Thomson, 1st Baron Kelvin
William Thomson, 1st Baron Kelvin
William Thomson, 1st Baron Kelvin OM, GCVO, PC, PRS, PRSE, was a mathematical physicist and engineer. At the University of Glasgow he did important work in the mathematical analysis of electricity and formulation of the first and second laws of thermodynamics, and did much to unify the emerging...
. It is used to measure an unknown
electrical resistance
Electrical resistance
The electrical resistance of an electrical element is the opposition to the passage of an electric current through that element; the inverse quantity is electrical conductance, the ease at which an electric current passes. Electrical resistance shares some conceptual parallels with the mechanical...
below 1
Ω
Ohm
The ohm is the SI unit of electrical resistance, named after German physicist Georg Simon Ohm.- Definition :The ohm is defined as a resistance between two points of a conductor when a constant potential difference of 1 volt, applied to these points, produces in the conductor a current of 1 ampere,...
. Its operation is similar to the
Wheatstone bridge
Wheatstone bridge
A Wheatstone bridge is an electrical circuit used to measure an unknown electrical resistance by balancing two legs of a bridge circuit, one leg of which includes the unknown component. Its operation is similar to the original potentiometer. It was invented by Samuel Hunter Christie in 1833 and...
except for the presence of additional resistors. These additional low value resistors and the internal configuration of the bridge are arranged to substantially reduce measurement errors introduced by voltage drops in the high current (low resistance) arm of the bridge .It consist of two sets of ratio arms.First outer set of ratio arms are the known resisters & inner ratio arms are helps to connect the one terminal of galvanometer at appropriate point(which was the disadvantage of Kelvin first bridge).