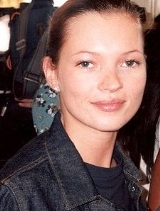 Kate Moss
Kate Moss
is an English model. Moss is known for her waifish figure and popularising the
heroin chic
Heroin chic
Heroin chic was a look popularized in mid-1990s fashion and characterized by pale skin, dark circles underneath the eyes, and jutting bones.The look, which promoted emaciated features and androgyny, was an alternative that stood in direct contradiction to the "healthy" and vibrant look of models...
look in the 1990s. She is also known for her controversial private life, high profile relationships, party lifestyle, and drug use. Moss changed the look of modelling and started a global debate on eating disorders, and her role in
size zero
Size Zero
Size 0 is a women's clothing size in the US catalog sizes system. Size 0 and 00 were invented due to the changing of clothing sizes over time , which has caused the adoption of lower numbers...
fashion. In 2007, she came 2nd on the
Forbes
Forbes
Forbes is an American publishing and media company. Its flagship publication, the Forbes magazine, is published biweekly. Its primary competitors in the national business magazine category are Fortune, which is also published biweekly, and Business Week...
top-earning models list, estimated to have earned $9 million in one year.
Moss was born in
Addiscombe
Addiscombe
Addiscombe is a district of south London, England, located in the London Borough of Croydon. It is situated south of Charing Cross.It is situated just to the northeast of central Croydon, and is home to a high proportion of people who commute to Central London, owing to its proximity to the busy...
,
Croydon
Croydon
Croydon is a town in South London, England, located within the London Borough of Croydon to which it gives its name. It is situated south of Charing Cross...
, London to Linda Rosina (Shepherd), a barmaid, and Peter Edward Moss, a travel agent.
I don't do any Class A -especially not cocaine - after seeing what it does to people.

in 1994 to Channel 4 on the BBC
It was just the time. It was a swing from more buxom girls like Cindy Crawford and people were shocked to see what they called a 'waif'. What can you say? How many times can you say 'I'm not anorexic'?

Responding to a question submitted by Landon Bradley of Vancouver in March, 2003 interview with website Showstudio