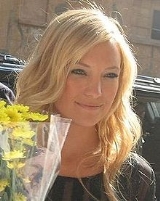 Kate Hudson
Kate Garry Hudson
is an American actress. She came to prominence in 2001 after winning a Golden Globe and receiving several nominations, including a nomination for an
Academy Award for Best Supporting Actress
Academy Award for Best Supporting Actress
Performance by an Actress in a Supporting Role is one of the Academy Awards of Merit presented annually by the Academy of Motion Picture Arts and Sciences to recognize an actress who has delivered an outstanding performance while working within the film industry. Since its inception, however, the...
, for her role in
Almost Famous
Almost Famous
Almost Famous is a 2000 musical comedy-drama film written and directed by Cameron Crowe and telling the fictional story of a teenage journalist writing for Rolling Stone magazine while covering the fictitious rock band Stillwater , and his efforts to get his first cover story published...
. She then starred in the hit film
How to Lose a Guy in 10 Days
How to Lose a Guy in 10 Days
How to Lose a Guy in 10 Days is a 2003 romantic comedy film, directed by Donald Petrie, starring Kate Hudson and Matthew McConaughey. It is based on a short cartoon book of the same name by Michele Alexander and Jeannie Long.-Plot:...
(2003) which gained her wider fame. She has since established herself in Hollywood after starring in several productions including
Raising Helen
Raising Helen
Raising Helen is a 2004 American comedy-drama film directed by Garry Marshall and written by Jack Amiel and Michael Begler. It stars Kate Hudson, John Corbett, Joan Cusack, Hayden Panettiere, Spencer and his sister Abigail Breslin and Helen Mirren...
(2004),
The Skeleton Key
The Skeleton Key
The Skeleton Key is a 2005 American supernatural horror film starring Kate Hudson, Gena Rowlands, John Hurt, Peter Sarsgaard, and Joy Bryant. The film focuses on a young hospice nurse who acquires a job at a Terrebonne Parish plantation home, and becomes entangled in a mystery involving the house,...
(2005),
You, Me and Dupree
You, Me and Dupree
You, Me and Dupree is a 2006 romantic comedy film directed by Anthony Russo and Joe Russo, written by Mike LeSieur, and produced by Mary Parent, Scott Stuber, and Owen Wilson....
(2006),
Fool's Gold
Fool's Gold (2008 film)
Fool's Gold is an 2008 American adventure/romance film from Warner Bros. Pictures about a married couple who rekindle their romantic life while searching for a lost treasure. The film was directed by Andy Tennant and reunites the How to Lose a Guy in 10 Days stars Matthew McConaughey and Kate Hudson...
(2008) and
Bride Wars
Bride Wars
Bride Wars is a 2009 American romantic comedy film directed by Gary Winick and written by Greg DePaul, June Diane Raphael and Casey Wilson....
(2009).
Hudson was born in Los Angeles, California, the daughter of Academy Award-winning actress
Goldie Hawn
Goldie Hawn
Goldie Jeanne Hawn is an American actress, film director, producer, and occasional singer. Hawn is known for her roles in Rowan & Martin's Laugh-In, Private Benjamin, Foul Play, Overboard, Bird on a Wire, Death Becomes Her, The First Wives Club, and Cactus Flower, for which she won the 1969...
and Bill Hudson, an actor, comedian, and musician.
Everyday, I tell my husband, 'Maybe we should cash in. I'll make handmade lotion and you can write music and sell it on the Internet.'

I have zero problems when people say, 'God, you look like your mother.' I go, 'Well, great! Thanks!'

I'm Jewish and this was the first time I experienced real anti-Semitism. Paris was scary...there were synagogues bombed and there was anti-Semitic graffiti all over the place. I was very angry. This is something I am passionate about.

I'm a hippie at heart. I wear the clothes, and they're the best. And the music is incredible, too.

I'm not a big fan of romantic comedies, believe it or not... Well, I don't run out to see them.

The sweetest moment was when the kids were done and when we finished with the kids. It was just so emotional. And I looked at Abby [Breslin, who plays five-year-old Sarah] and she was crying. I mean it was so difficult. We just hugged forever and I told them I loved them. And it was just... it really made the whole experience that much more special; to know that those kids took something from that experience.

On Raising Helen