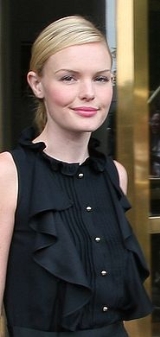 Kate Bosworth
Catherine Ann "Kate" Bosworth
(born January 2, 1983) is an American actress. Bosworth starred in the television series
Young Americans
Young Americans (TV series)
Young Americans is an American television drama created by Steven Antin. The show debuted on July 12, 2000 on The WB network as a summer replacement for, and spin-off from, another Columbia TriStar Television production, Dawson's Creek. The series was originally ordered for the fall 1999-2000...
, in which she played Bella Banks. She became known with a leading role in 2002's
Blue Crush
Blue Crush
Blue Crush is a 2002 surfer film directed by John Stockwell and based on the Outside magazine article "Life's Swell" by Susan Orlean. Starring Kate Bosworth, Michelle Rodriguez, Sanoe Lake, and Mika Boorem, it tells the story of three friends who have one passion: living the ultimate dream of...
. The following year, Bosworth played the teenage girlfriend of porn star
John Holmes
John Holmes (actor)
John Curtis Holmes better known as John C. Holmes or Johnny Wadd , was one of the most prolific male porn stars of all time, appearing in about 2,500 adult loops, stag films, and pornographic feature movies in the 1970s and 1980s...
in
Wonderland
Wonderland (film)
Wonderland is a 2003 American crime and drama film co-written and directed by James Cox, and based on the real-life Wonderland Murders that occurred in 1981. The film stars Val Kilmer, Kate Bosworth, Lisa Kudrow, Dylan McDermott, Josh Lucas, Christina Applegate, and Tim Blake Nelson...
opposite
Val Kilmer
Val Kilmer
Val Edward Kilmer is an American actor. Originally a stage actor, Kilmer became popular in the mid-1980s after a string of appearances in comedy films, starting with Top Secret! , then the cult classic Real Genius , as well as blockbuster action films, including a supporting role in Top Gun and a...
. In 2004, she portrayed
Sandra Dee
Sandra Dee
Sandra Dee was an American actress. Dee began her career as a model and progressed to film. Best known for her portrayal of ingenues, Dee won a Golden Globe Award in 1959 as one of the year's most promising newcomers, and over several years her films were popular...
in
Kevin Spacey
Kevin Spacey
Kevin Spacey, CBE is an American actor, director, screenwriter, producer, and crooner. He grew up in California, and began his career as a stage actor during the 1980s, before being cast in supporting roles in film and television...
's
Beyond the Sea
Beyond the Sea (film)
Beyond the Sea is a 2004 biographical film based on the life of singer/actor Bobby Darin. Kevin Spacey, who stars in the lead role and used his own singing voice for the musical numbers, co-wrote, directed, and co-produced the film, which takes its title from the Darin song of the same name...
. Bosworth since appeared in several notable films, including
Superman Returns
Superman Returns
Superman Returns is a 2006 superhero film directed by Bryan Singer. It is the fifth and final installment in the original Superman film series and serves as a alternate sequel to Superman and Superman II by ignoring the events of Superman III and Superman IV: The Quest for Peace .The film stars...
(2006), where she played
Lois Lane
Lois Lane
Lois Lane is a fictional character, the primary love interest of Superman in the comic books of DC Comics. Created by writer Jerry Siegel and artist Joe Shuster, she first appeared in Action Comics #1 ....
, and 2008's
blackjack
Blackjack
Blackjack, also known as Twenty-one or Vingt-et-un , is the most widely played casino banking game in the world...
drama
Drama
Drama is the specific mode of fiction represented in performance. The term comes from a Greek word meaning "action" , which is derived from "to do","to act" . The enactment of drama in theatre, performed by actors on a stage before an audience, presupposes collaborative modes of production and a...
film
21
21 (2008 film)
21 is a 2008 drama film directed by Australian director Robert Luketic and stars Jim Sturgess, Kevin Spacey, Laurence Fishburne, Kate Bosworth, Liza Lapira, Jacob Pitts, and Aaron Yoo. The film is inspired by the true story of the MIT Blackjack Team as told in Bringing Down the House, the...
.
I watched a lot of Hepburn to prepare for Lois, particularly The Philadelphia Story and Guess Who's Coming to Dinner. Hepburn is a great model for how I see Lois - strong but fragile.

Talking about modeling her Lois Lane|Lois Lane performance on Katharine Hepburn|Katharine Hepburn
I'd hate to say it, but I'm a blueblood. That's just the way I've been raised.

I'm in love with what I do but it's not the only thing that fulfills me.

I'm ready for this. I'm just glad my 'breakout' wasn't a gigantic film. I feel solid in myself now.

On the changes that will follow her life and career after being cast as Lois Lane|Lois Lane in Superman Returns|Superman Returns
There are girls, people in the industry who just kind of flip through magazines and pick out guys, like, 'I'm gonna date him.' I could never do that. I don't think being set up works. I'm big into fate.