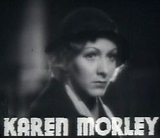 Karen Morley
Life and career
Born
Mildred Linton
in
Ottumwa, Iowa
Ottumwa, Iowa
Ottumwa is a city in and the county seat of Wapello County, Iowa, United States. The population was 24,998 at the 2000 census. It is located in the southeastern part of Iowa, and the city is split into northern and southern halves by the Des Moines River....
, Morley lived there until she was thirteen years old. When she came to Hollywood, she attended
Hollywood High School
Hollywood High School
Hollywood High School is a Los Angeles Unified School District high school located at the intersection of North Highland Avenue and West Sunset Boulevard in the Hollywood district of Los Angeles, California.-History:...
, and she later graduated from
UCLA
University of California, Los Angeles
The University of California, Los Angeles is a public research university located in the Westwood neighborhood of Los Angeles, California, USA. It was founded in 1919 as the "Southern Branch" of the University of California and is the second oldest of the ten campuses...
.
After working at the
Pasadena Playhouse
Pasadena Playhouse
The Pasadena Playhouse is a historic performing arts venue located 39 S El Molino Avenue in Pasadena, California. The 686-seat auditorium produces a variety of cultural and artistic events, professional shows, and community engagements each year.-History:...
, she came to the attention of the director
Clarence Brown
Clarence Brown
Clarence Brown was an American film director.-Early life:Born in Clinton, Massachusetts, to a cotton manufacturer, Brown moved to the South when he was 11. He attended Knoxville High School and the University of Tennessee, both in Knoxville, Tennessee, graduating from the university at the age of...
when he was looking for an actress to stand-in for
Greta Garbo
Greta Garbo
Greta Garbo , born Greta Lovisa Gustafsson, was a Swedish film actress. Garbo was an international star and icon during Hollywood's silent and classic periods. Many of Garbo's films were sensational hits, and all but three were profitable...
in
screen test
Screen test
A screen test is a method of determining the suitability of an actor or actress for performing on film and/or in a particular role. The performer is generally given a scene, or selected lines and actions, and instructed to perform in front of a camera to see if they are suitable...
s. This led to a contract with MGM and roles in such films as
Mata Hari
(1931),
Scarface
Scarface (1932 film)
Scarface is a 1932 American gangster film starring Paul Muni and George Raft, produced by Howard Hughes, directed by Howard Hawks and Richard Rosson, and written by Ben Hecht based on the 1929 novel of the same name by Armitage Trail...
(1932),
The Phantom of Crestwood
The Phantom of Crestwood
The Phantom of Crestwood is a murder mystery film released by RKO Radio Pictures, directed by J. Walter Ruben, and starring Ricardo Cortez, Karen Morley, Richard "Skeets" Gallagher, Anita Louise, H. B. Warner, and Pauline Frederick...
(1932),
The Mask of Fu Manchu
The Mask of Fu Manchu
The Mask of Fu Manchu is a Pre-Code adventure film released in 1932, featuring Boris Karloff as Fu Manchu and Myrna Loy as his daughter. The movie revolves around Fu Manchu's quest for the sword and mask of Genghis Khan. Lewis Stone plays his nemesis...
(1932),
Arsene Lupin
Arsène Lupin
Arsène Lupin is a fictional character who appears in a book series of detective fiction / crime fiction novels written by French writer Maurice Leblanc, as well as a number of non-canonical sequels and numerous film, television such as Night Hood, stage play and comic book adaptations.- Overview :A...
(1933) and
Dinner at Eight
(1933).
In 1934, Morley left MGM after arguments about her roles and her private life. Her first film after leaving MGM was
Our Daily Bread
Our Daily Bread (1934 film)
Our Daily Bread is a 1934 film directed by King Vidor and starring Karen Morley, Tom Keene, and John Qualen. Vidor tried to interest Irving Thalberg of MGM in the project, but Thalberg rejected the idea...
(1934) directed by
King Vidor
King Vidor
King Wallis Vidor was an American film director, film producer, and screenwriter whose career spanned nearly seven decades...
. She continued to work as a freelance performer, and appeared in
Michael Curtiz
Michael Curtiz
Michael Curtiz was an Academy award winning Hungarian-American film director. He had early creditsas Mihály Kertész and Michael Kertész...
's
Black Fury
Black Fury (1935 film)
Black Fury is a 1935 American crime film starring Paul Muni, Karen Morley, and William Gargan. It was adapted from the short story "Jan Volkanik" by Judge Michael A. Musmanno and the play Bohunk by Harry R...
, and
The Littlest Rebel
The Littlest Rebel
The Littlest Rebel is a 1935 American dramatic film directed by David Butler. The screenplay by Edwin J. Burke was adapted from a play of the same name by Edward Peple and focuses on the tribulations of a plantation-owning family during the American Civil War...
with
Shirley Temple
Shirley Temple
Shirley Temple Black , born Shirley Jane Temple, is an American film and television actress, singer, dancer, autobiographer, and former U.S. Ambassador to Ghana and Czechoslovakia...
. Without the support of a studio, her roles became less frequent, however she played a supporting role in
Pride and Prejudice
Pride and Prejudice (1940 film)
Pride and Prejudice is a 1940 film adaptation of Jane Austen's novel of the same name. Robert Z. Leonard directed, and Aldous Huxley served as one of the screenwriters of the film. It is adapted specifically from the stage adaptation by Helen Jerome in addition to Jane Austen's novel...
(1940).
Her career came to an end in 1947, when she testified before the
House Un-American Activities Committee
House Un-American Activities Committee
The House Committee on Un-American Activities or House Un-American Activities Committee was an investigative committee of the United States House of Representatives. In 1969, the House changed the committee's name to "House Committee on Internal Security"...
and refused to answer questions about her alleged American Communist Party membership. She maintained her political activism for the rest of her life. In 1954, she ran unsuccessfully for
Lieutenant Governor of New York
Lieutenant Governor of New York
The Lieutenant Governor of New York is a constitutional office in the executive branch of the government of New York State. It is the second highest ranking official in state government. The lieutenant governor is elected on a ticket with the governor for a four year term...
on the
American Labor Party
American Labor Party
The American Labor Party was a political party in the United States established in 1936 which was active almost exclusively in the state of New York. The organization was founded by labor leaders and former members of the Socialist Party who had established themselves as the Social Democratic...
ticket.
After being
blacklisted in Hollywood
Hollywood blacklist
The Hollywood blacklist—as the broader entertainment industry blacklist is generally known—was the mid-twentieth-century list of screenwriters, actors, directors, musicians, and other U.S. entertainment professionals who were denied employment in the field because of their political beliefs or...
by the studio bosses, she was never able to rebuild her acting career. In December 1999, at the age of 90, she appeared in the
magazine
Magazine
Magazines, periodicals, glossies or serials are publications, generally published on a regular schedule, containing a variety of articles. They are generally financed by advertising, by a purchase price, by pre-paid magazine subscriptions, or all three...
Vanity Fair
Vanity Fair (magazine)
Vanity Fair is a magazine of pop culture, fashion, and current affairs published by Condé Nast. The present Vanity Fair has been published since 1983 and there have been editions for four European countries as well as the U.S. edition. This revived the title which had ceased publication in 1935...
in an article about blacklist survivors.
Personal life
Morley was married to director
Charles Vidor
Charles Vidor
Charles Vidor was a film director.-Biography:Born Károly Vidor to a Jewish family in Budapest, Hungary, he served in the Hungarian Army during World War I...
from 1932 until 1943. They met on the set of
Man About Town
, in which Morley played the female lead, and Vidor was co-director. Vidor and Morley had a son, Michael Karoly, who was born in August 1933. Morley and Vidor were divorced in 1943, and later that year, she married the actor
Lloyd Gough
Lloyd Gough
Lloyd Gough was an American theater, film, and television actor.Born Michael Gough in New York City, he was a noted character actor...
. They had one child together. They were married until Gough's death in 1984.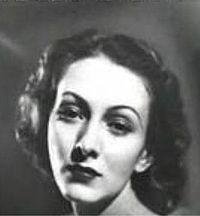 Morley lived in
Santa Monica
Santa Mônica
Santa Mônica is a town and municipality in the state of Paraná in the Southern Region of Brazil.-References:...
,
California
California
California is a state located on the West Coast of the United States. It is by far the most populous U.S. state, and the third-largest by land area...
during her later years, and she died from
pneumonia
Pneumonia
Pneumonia is an inflammatory condition of the lung—especially affecting the microscopic air sacs —associated with fever, chest symptoms, and a lack of air space on a chest X-ray. Pneumonia is typically caused by an infection but there are a number of other causes...
in Woodland Hills, California at the age of 93. She was survived by two grandsons, a great-grandson, and a great-granddaughter.
External links