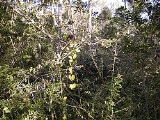 Jungle
A
Jungle
is an area of land in the tropics overgrown with dense vegetation.
The word
jungle
originates from the
Sanskrit
Sanskrit
Sanskrit , is a historical Indo-Aryan language and the primary liturgical language of Hinduism, Jainism and Buddhism.Buddhism: besides Pali, see Buddhist Hybrid Sanskrit Today, it is listed as one of the 22 scheduled languages of India and is an official language of the state of Uttarakhand...
word
jangala
(जंगल) which referred to
uncultivated land
. Although the Sanskrit word refers to "dry land", it has been suggested that an Anglo-Indian interpretation led to its connotation as a dense "tangled thicket". while others have argued that a cognate word in Urdu did refer to forests.