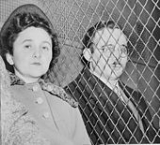 Julius and Ethel Rosenberg
Ethel Greenglass Rosenberg (September 28, 1915 – June 19, 1953) and Julius Rosenberg (May 12, 1918 – June 19, 1953) were
American
United States
The United States of America is a federal constitutional republic comprising fifty states and a federal district...
communists
Communist Party USA
The Communist Party USA is a Marxist political party in the United States, established in 1919. It has a long, complex history that is closely related to the histories of similar communist parties worldwide and the U.S. labor movement....
who were convicted and executed in 1953 for conspiracy to commit
espionage
Espionage
Espionage or spying involves an individual obtaining information that is considered secret or confidential without the permission of the holder of the information. Espionage is inherently clandestine, lest the legitimate holder of the information change plans or take other countermeasures once it...
during a time of war. The charges related to their passing information about the
atomic bomb
Nuclear weapon
A nuclear weapon is an explosive device that derives its destructive force from nuclear reactions, either fission or a combination of fission and fusion. Both reactions release vast quantities of energy from relatively small amounts of matter. The first fission bomb test released the same amount...
to the
Soviet Union
Soviet Union
The Soviet Union , officially the Union of Soviet Socialist Republics , was a constitutionally socialist state that existed in Eurasia between 1922 and 1991....
. This was the first execution of civilians for espionage in United States history.
In 1995, the U.S.