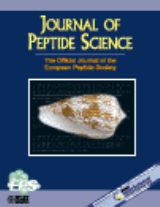 Journal of Peptide Science
The
Journal of Peptide Science
is a monthly
peer-reviewed
Peer review
Peer review is a process of self-regulation by a profession or a process of evaluation involving qualified individuals within the relevant field. Peer review methods are employed to maintain standards, improve performance and provide credibility...
scientific journal
Scientific journal
In academic publishing, a scientific journal is a periodical publication intended to further the progress of science, usually by reporting new research. There are thousands of scientific journals in publication, and many more have been published at various points in the past...
, published since 1995 by
John Wiley & Sons
John Wiley & Sons
John Wiley & Sons, Inc., also referred to as Wiley, is a global publishing company that specializes in academic publishing and markets its products to professionals and consumers, students and instructors in higher education, and researchers and practitioners in scientific, technical, medical, and...
on behalf of the European Peptide Society. The current editor-in-chief is Luis Moroder (
Max Planck Institute of Biochemistry
Max Planck Institute of Biochemistry
The Max Planck Institute of Biochemistry is a research institute of the Max Planck Society located in Martinsried, a suburb of Munich. The Institute was "founded in 1973 by the merger of three formerly independent institutes: the Max Planck Institute of Biochemistry, the Max Planck Institute of...
).
Impact factor and rank
The 2009
impact factor
Impact factor
The impact factor, often abbreviated IF, is a measure reflecting the average number of citations to articles published in science and social science journals. It is frequently used as a proxy for the relative importance of a journal within its field, with journals with higher impact factors deemed...
is 1.807. It is ranked 198th out of 283 journals in the category "Biochemistry & Molecular Biology" and 35th out of 70 in the category "Analytical Chemistry".
Most-cited papers
The three most-cited papers are:
Research Article: 'The cyclization of peptides and depsipeptides', Volume 9, Issue 8, Aug 2003, Pages: 471-501, Davies JS
Research Article: 'Antibacterial peptides isolated from insects', Volume 6, Issue 10, Oct 2000, Pages: 497-511, Otvos L
Research Article: 'Amyloid beta-peptide interactions with neuronal and glial cell plasma membrane: Binding sites and implications for Alzheimer's disease', Volume 10, Issue 5, May 2004, Pages: 229-248, Verdier Y, Zarandi M, Penke B
Abstracting and indexing
The
Journal of Peptide Science
is abstracted and indexed by
SciFinder
Chemical Abstracts Service
Chemical Abstracts is a periodical index that provides summaries and indexes of disclosures in recently published scientific documents. Approximately 8,000 journals, technical reports, dissertations, conference proceedings, and new books, in any of 50 languages, are monitored yearly, as are patent...
,
Scopus
Scopus
Scopus, officially named SciVerse Scopus, is a bibliographic database containing abstracts and citations for academic journal articles. It covers nearly 18,000 titles from over 5,000 international publishers, including coverage of 16,500 peer-reviewed journals in the scientific, technical, medical,...
, and the
Web of Science
Web of Science
ISI Web of Knowledge is an academic citation indexing and search service, which is combined with web linking and provided by Thomson Reuters. Web of Knowledge coverage encompasses the sciences, social sciences, arts and humanities. It provides bibliographic content and the tools to access, analyze,...
.