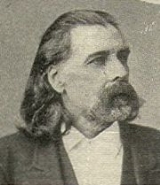 Josh Billings
Josh Billings
was the
pen name
Pen name
A pen name, nom de plume, or literary double, is a pseudonym adopted by an author. A pen name may be used to make the author's name more distinctive, to disguise his or her gender, to distance an author from some or all of his or her works, to protect the author from retribution for his or her...
of 19th century American humorist
Henry Wheeler Shaw
(21 April 181814 October 1885). He was perhaps the second most famous humor writer and lecturer in the
United States
United States
The United States of America is a federal constitutional republic comprising fifty states and a federal district...
in the second half of the 19th century after
Mark Twain
Mark Twain
Samuel Langhorne Clemens , better known by his pen name Mark Twain, was an American author and humorist...
, although his reputation has not endured so well with later generations.
Shaw was born in
Lanesborough
Lanesborough, Massachusetts
Lanesborough is a town in Berkshire County, Massachusetts, United States. It is part of the Pittsfield, Massachusetts Metropolitan Statistical Area. The population was 2,990 at the 2000 census.-History:...
,
Massachusetts
Massachusetts
The Commonwealth of Massachusetts is a state in the New England region of the northeastern United States of America. It is bordered by Rhode Island and Connecticut to the south, New York to the west, and Vermont and New Hampshire to the north; at its east lies the Atlantic Ocean. As of the 2010...
on April 20, 1818. His father was
Henry Shaw
Henry Shaw (Massachusetts)
Henry Shaw was a U.S. Representative from Massachusetts, son of Samuel Shaw. Born near Putney, Vermont, Shaw completed preparatory studies. He studied law, was admitted to the bar and commenced practice in Albany, New York, in 1810...
, who served in the
United States House of Representatives
United States House of Representatives
The United States House of Representatives is one of the two Houses of the United States Congress, the bicameral legislature which also includes the Senate.The composition and powers of the House are established in Article One of the Constitution...
from 1817–21, and his grandfather
Samuel Shaw
Samuel Shaw
Samuel Shaw was a United States Representative from Vermont. He was born in Dighton, Massachusetts. He received a limited schooling as a youth. He moved to Putney, Vermont and studied medicine and commenced practice in Castleton in 1789.Shaw was a member of the Vermont House of Representatives...
who also served in the U.S.
It is better to know nothing than to know what ain't so.

Proverb (1874)
A secret ceases to be a secret if it is once confided—it is like a dollar bill, once broken, it is never a dollar again.

Love is like the measles; we can't have it bad but once, and the later in life we have it the tougher it goes with us.

Put an Englishman into the garden of Eden, and he would find fault with the whole blasted concern; put a Yankee in, and he would see where he could alter it to advantage; put an Irishman in, and he would want to boss the thing; put a Dutchman in, and he would proceed to plant it.

Better make a weak man your enemy than your friend.

Nature never makes blunders; when she makes a fool she means it.

I don't care how much a man talks, if he only says it in a few words.

As scarce as truth is, the supply has always been in excess of the demand.

Poverty is the stepmother of genius.

"Familiarity breeds kontempt." This only applies tew men, not tew hot bukwheat slapkakes, well buttered and sugared.