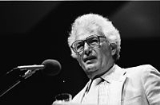 Joseph Heller
Joseph Heller
was a US satirical
novel
Novel
A novel is a book of long narrative in literary prose. The genre has historical roots both in the fields of the medieval and early modern romance and in the tradition of the novella. The latter supplied the present generic term in the late 18th century....
ist,
short story
Short story
A short story is a work of fiction that is usually written in prose, often in narrative format. This format tends to be more pointed than longer works of fiction, such as novellas and novels. Short story definitions based on length differ somewhat, even among professional writers, in part because...
writer, and playwright. His best known work is
Catch-22
Catch-22
Catch-22 is a satirical, historical novel by the American author Joseph Heller. He began writing it in 1953, and the novel was first published in 1961. It is set during World War II in 1943 and is frequently cited as one of the great literary works of the twentieth century...
, a novel about US servicemen during
World War II
World War II
World War II, or the Second World War , was a global conflict lasting from 1939 to 1945, involving most of the world's nations—including all of the great powers—eventually forming two opposing military alliances: the Allies and the Axis...
. The title of this work entered the English lexicon to refer to absurd, no-win choices, particularly in situations in which the desired outcome of the choice is an impossibility, and regardless of choice, the same negative outcome is a certainty. Heller is widely regarded as one of the best post–World War II satirists.
When I read something saying I've not done anything as good as Catch-22 I'm tempted to reply, "Who has?"

As quoted in The Oxford Dictionary of Literary Quotations (1997) edited by Peter Kemp, p. 303
It was love at first sight. The first time Yossarian saw the chaplain he fell madly in love with him.

Opening Lines
The Texan turned out to be good-natured, generous and likeable. In three days no one could stand him.

"Open your eyes, Clevinger. It doesn't make a damned bit of difference who wins the war to someone who's dead."

Clevinger was dead. That was the basic flaw in his philosophy.

"The enemy is anybody who's going to get you killed, no matter which side he's on."

He had decided to live forever or die in the attempt, and his only mission each time he went up was to come down alive.