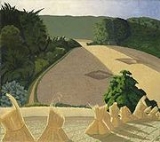 John Nash (artist)
John Northcote Nash
CBE
Order of the British Empire
The Most Excellent Order of the British Empire is an order of chivalry established on 4 June 1917 by George V of the United Kingdom. The Order comprises five classes in civil and military divisions...
RA (11 April 1893 – 23 September 1977) was a British painter of landscape and still-life, wood-engraver and illustrator, particularly of botanic works.
Nash was born in London on 11 April 1893, the younger brother of the artist
Paul Nash
Paul Nash (artist)
Paul Nash was a British landscape painter, surrealist and war artist, as well as a book-illustrator, writer and designer of applied art. He was the older brother of the artist John Nash.-Early life:...
(1889–1946). In 1901 the family moved to Iver Heath, Buckinghamshire. He was educated in Slough and afterwards at
Wellington College, Berkshire
Wellington College, Berkshire
-Former pupils:Notable former pupils include historian P. J. Marshall, architect Sir Nicholas Grimshaw, impressionist Rory Bremner, Adolphus Cambridge, 1st Marquess of Cambridge, author Sebastian Faulks, language school pioneer John Haycraft, political journalist Robin Oakley, actor Sir Christopher...
.
At first he worked as a newspaper reporter, but in 1913 he exhibited landscapes with his brother at the Dorien Leigh Galleries, London, and was invited to join The London Group and the Friday Club.
In 1914 he began painting in oils.
The artist's main business is to train his eye to see,then to probe and then to train his hand to work in sympathy with his eye.

I never look for more than reality,the farming,the trees,the river.I suppose poetry gets in to reality.

In looking at a landscape its abstract features appeal pretty quickly.Although representational I am primarily interested in the structure underneath,though I hope not obviously.