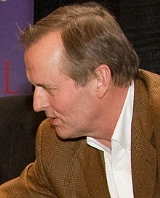 John Grisham
John Ray Grisham, Jr. is an American
lawyer
Lawyer
A lawyer, according to Black's Law Dictionary, is "a person learned in the law; as an attorney, counsel or solicitor; a person who is practicing law." Law is the system of rules of conduct established by the sovereign government of a society to correct wrongs, maintain the stability of political...
and author, best known for his popular
legal thriller
Legal thriller
The legal thriller is a sub-genre of thriller and crime fiction in which the major characters are lawyers and their employees. The system of justice itself is always a major part of these works, at times almost functioning as one of the characters...
s.
John Grisham graduated from
Mississippi State University
Mississippi State University
The Mississippi State University of Agriculture and Applied Science commonly known as Mississippi State University is a land-grant university located in Oktibbeha County, Mississippi, United States, partially in the town of Starkville and partially in an unincorporated area...
before attending the
University of Mississippi School of Law
University of Mississippi School of Law
The University of Mississippi School of Law, also known as Ole Miss Law, is an ABA-accredited law school located on the campus of the University of Mississippi in Oxford, Mississippi. The School of Law opened in 1854 and is the fourth-oldest state-supported law school in the country...
in 1981 and practiced criminal law for about a decade. He also served in the House of Representatives in
Mississippi
Mississippi
Mississippi is a U.S. state located in the Southern United States. Jackson is the state capital and largest city. The name of the state derives from the Mississippi River, which flows along its western boundary, whose name comes from the Ojibwe word misi-ziibi...
from January 1984 to September 1990.
Beginning writing in 1984, he had his first novel
A Time To Kill
A Time to Kill
A Time to Kill is a 1989 legal suspense thriller by John Grisham. Grisham's first novel, it was rejected by many publishers before Wynwood Press eventually gave it a modest 5,000-copy printing...
published in June 1989.
As of 2008, his books had sold over 250 million copies worldwide.