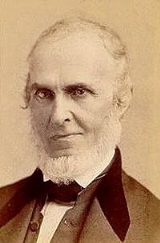 John Greenleaf Whittier
John Greenleaf Whittier
(December 17, 1807 – September 7, 1892) was an influential American Quaker
poet
Poet
A poet is a person who writes poetry. A poet's work can be literal, meaning that his work is derived from a specific event, or metaphorical, meaning that his work can take on many meanings and forms. Poets have existed since antiquity, in nearly all languages, and have produced works that vary...
and ardent advocate of the abolition of
slavery
Slavery
Slavery is a system under which people are treated as property to be bought and sold, and are forced to work. Slaves can be held against their will from the time of their capture, purchase or birth, and deprived of the right to leave, to refuse to work, or to demand compensation...
in the
United States
United States
The United States of America is a federal constitutional republic comprising fifty states and a federal district...
. He is usually listed as one of the
Fireside Poets
Fireside Poets
The Fireside Poets were a group of 19th-century American poets from New England.-Overview:...
. Whittier was strongly influenced by the Scottish poet,
Robert Burns
Robert Burns
Robert Burns was a Scottish poet and a lyricist. He is widely regarded as the national poet of Scotland, and is celebrated worldwide...
.
Highly regarded in his lifetime and for a period thereafter, he is now remembered for his poem
Snow-Bound
Snow-Bound
Snow-Bound: A Winter Idyl is a long narrative poem by American poet John Greenleaf Whittier first published in 1866.-Overview:The poem takes place in what is today known as the John Greenleaf Whittier Homestead, which still stands in Haverhill, Massachusetts. The poem chronicles a rural New England...
, and the words of the
hymn
Hymn
A hymn is a type of song, usually religious, specifically written for the purpose of praise, adoration or prayer, and typically addressed to a deity or deities, or to a prominent figure or personification...
Dear Lord and Father of Mankind

Dear Lord and Father of Mankind

"Dear Lord and Father of Mankind" is a hymn with words taken from a longer poem, The Brewing of Soma by American Quaker poet John Greenleaf Whittier. The adaptation was made by Garrett Horder in his 1884 Congregational Hymns....


,
from his poem The Brewing of Soma, sung to music by
Hubert Parry
Hubert Parry
Sir Charles Hubert Hastings Parry, 1st Baronet was an English composer, teacher and historian of music.Parry's first major works appeared in 1880. As a composer he is best known for the choral song "Jerusalem", the coronation anthem "I was glad" and the hymn tune "Repton", which sets the words...
.
John Greenleaf Whittier was born to John and Abigail (Hussey) at their
rural homestead
John Greenleaf Whittier Homestead
The John Greenleaf Whittier Homestead is the birthplace and home of American Quaker poet and abolitionist John Greenleaf Whittier. It currently serves as a museum.-History:...
near
Haverhill
Haverhill, Massachusetts
Haverhill is a city in Essex County, Massachusetts, United States. The population was 60,879 at the 2010 census.Located on the Merrimack River, it began as a farming community that would evolve into an important industrial center, beginning with sawmills and gristmills run by water power. In the...
,
Massachusetts
Massachusetts
The Commonwealth of Massachusetts is a state in the New England region of the northeastern United States of America. It is bordered by Rhode Island and Connecticut to the south, New York to the west, and Vermont and New Hampshire to the north; at its east lies the Atlantic Ocean. As of the 2010...
, on December 17, 1807.
Maud Muller, on a summer's day, Raked the meadows sweet with hay. Beneath her torn hat glowed the wealth Of simple beauty and rustic health.

So, closing his heart, the Judge rode on, And Maud was left in the field alone. But the lawyers smiled that afternoon, When he hummed in court an old love-tune

He wedded a wife of richest dower, Who lived for fashion, as he for power. Yet oft, in his marble hearth's bright glow, He watched a picture come and go: And sweet Maud Muller's hazel eyes Looked out in their innocent surprise.

A manly form at her side she saw, And joy was duty and love was law. Then she took up her burden of life again, Saying only, "It might have been."