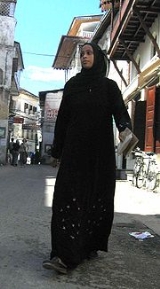 Jilbab
The term
jilbāb
or
jilbaab
(Arabic جلباب) is the plural of the word
jilaabah
which refers to any long and loose-fit coat or garment worn by some
Muslim
Muslim
A Muslim, also spelled Moslem, is an adherent of Islam, a monotheistic, Abrahamic religion based on the Quran, which Muslims consider the verbatim word of God as revealed to prophet Muhammad. "Muslim" is the Arabic term for "submitter" .Muslims believe that God is one and incomparable...
women. They believe that this definition of jilbab fulfills the Quranic demand for a
Hijab
Hijab
The word "hijab" or "'" refers to both the head covering traditionally worn by Muslim women and modest Muslim styles of dress in general....
. Jilbab or Jilaabah is also known as Jubbah or Manteau (which is the French word for coat or mantle).
The modern jilbāb covers the entire body, except for hands, face, and head.