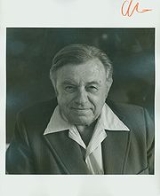 Jerusalem Foundation
The
Jerusalem Foundation
(hebr. הקרן לירושלים) is an international non-profit organization whose goal is the improvement of the quality of life for all citizens of
Jerusalem
. It was founded in 1966 by the mayor of Jerusalem,
Teddy Kollek
Teddy Kollek
Theodor "Teddy" Kollek was mayor of Jerusalem from 1965 to 1993, and founder of the Jerusalem Foundation. Kollek was re-elected five times, in 1969, 1973, 1978, 1983 and 1989...
. The foundation is politically not affiliated. Based in Jerusalem, the Foundation works closely with supporters throughout the world and has desks in the United States, the United Kingdom, Germany, France, Canada and other countries.
Using Jewish values as the source of its inspiration, the Jerusalem Foundation seeks to create a just society for all citizens of
Jerusalem
. It supports efforts that protect the interests of all minorities, regardless of religion or socio-economic background.
The Jerusalem Foundation works toward creating an open, equitable and modern society by responding to the needs of the residents and trying to improve their quality of life. In particular, the Jerusalem Foundation has developed an agenda around three areas:
Community Building and Economic Vitality
Coexistence
Cultural Life and Creativity
Since its founding in 1966, the Jerusalem Foundation has completed over 2000 projects throughout the city, among others the
Hand in Hand School
Hand in Hand: Center for Jewish Arab Education in Israel
Hand in Hand: Center for Jewish-Arab Education in Israel is a network of award-winning bilingual schools where Jewish and Arab citizens of Israel can study together...
for bilingual education, the
Tower of David
Tower of David
The Tower of David is an ancient citadel located near the Jaffa Gate entrance to the Old City of Jerusalem.Built to strengthen a strategically weak point in the Old City's defenses, the citadel that stands today was constructed during the 2nd century BC and subsequently destroyed and rebuilt by,...
Museum of the History of Jerusalem, and the
Jerusalem Music Centre
Jerusalem Music Centre
The Jerusalem Music Centre is an institute for musical education in Mishkenot Sha'ananim, Jerusalem, Israel. The centre helps young Israeli musicians to develop their talents through multi-annual programs and courses, master classes, and performances...
.
The Foundation's president is Ruth Cheshin.
External links