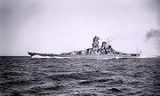 Japanese battleship Yamato
, named after the ancient Japanese
Yamato Province
Yamato Province
was a province of Japan, located in Kinai, corresponding to present-day Nara Prefecture in Honshū. It was also called . At first, the name was written with one different character , and for about ten years after 737, this was revised to use more desirable characters . The final revision was made in...
, was the lead ship of the
Yamato class
Yamato class battleship
The were battleships of the Imperial Japanese Navy constructed and operated during World War II. Displacing at full load, the vessels were the heaviest and most powerfully armed battleships ever constructed. The class carried the largest naval artillery ever fitted to a warship, nine naval...
of
battleship
Battleship
A battleship is a large armored warship with a main battery consisting of heavy caliber guns. Battleships were larger, better armed and armored than cruisers and destroyers. As the largest armed ships in a fleet, battleships were used to attain command of the sea and represented the apex of a...
s that served with the
Imperial Japanese Navy
Imperial Japanese Navy
The Imperial Japanese Navy was the navy of the Empire of Japan from 1869 until 1947, when it was dissolved following Japan's constitutional renunciation of the use of force as a means of settling international disputes...
during
World War II
World War II
World War II, or the Second World War , was a global conflict lasting from 1939 to 1945, involving most of the world's nations—including all of the great powers—eventually forming two opposing military alliances: the Allies and the Axis...
. She and her sister ship,
Musashi
Japanese battleship Musashi
, named after the ancient Japanese Musashi Province, was a battleship of the Imperial Japanese Navy during World War II and flagship of the Japanese Combined Fleet. She was the second ship of the...
, were the heaviest and most powerfully armed battleships ever constructed, displacing 72,800 tonnes at full load and armed with nine 46 cm (18.1 inch) main guns. Neither, however, survived the war.
Laid down in 1937 and formally commissioned a week after the Pearl Harbor attack in late 1941,
Yamato
was designed to counter the numerically superior battleship fleet of the United States, Japan's main rival in the Pacific.