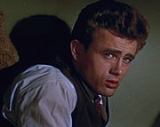 James Dean
James Byron Dean
was an American film actor. He is a
cultural icon
Cultural icon
A cultural icon can be a symbol, logo, picture, name, face, person, building or other image that is readily recognized and generally represents an object or concept with great cultural significance to a wide cultural group...
, best embodied in the title of his most celebrated film,
Rebel Without a Cause
Rebel Without a Cause
Rebel Without a Cause is a 1955 American drama film about emotionally confused suburban, middle-class teenagers. Directed by Nicholas Ray, it offered both social commentary and an alternative to previous films depicting delinquents in urban slum environments...
(1955), in which he starred as troubled Los Angeles teenager Jim Stark. The other two roles that defined his stardom were as loner Cal Trask in
East of Eden
(1955), and as the surly ranch hand, Jett Rink, in
Giant
(1956). Dean's enduring fame and popularity rests on his performances in only these three films, all leading roles.
Dream as if you'll live forever. Live as if you'll die today.

Gratification comes in the doing, not in the results.

How can you measure acting in inches?

When told he was too short to be an actor. James Dean's actual height was 5'8.
I'm playing the damn bongos and the world can go to hell.

Most of all I like to mold and create things.

I think the prime reason for living in this world is discovery.

I'm a serious minded and intense little devil - terribly gauche and so tense that I don't see how people can stay in the same room as me. I know I couldn't tolerate myself.

I don't even want to be just the best. I want to grow so tall that nobody can reach me.

I think there is only one form of greatness for man. If a man can bridge the gap between life and death. I mean, if he can live on after he has died, then maybe he was a great man. To me the only success, the only greatness, is immortality.