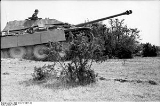 Jagdpanther
The
Jagdpanther
was a
tank destroyer
Tank destroyer
A tank destroyer is a type of armored fighting vehicle armed with a gun or missile launcher, and is designed specifically to engage enemy armored vehicles...
built by
Nazi Germany
Nazi Germany
Nazi Germany , also known as the Third Reich , but officially called German Reich from 1933 to 1943 and Greater German Reich from 26 June 1943 onward, is the name commonly used to refer to the state of Germany from 1933 to 1945, when it was a totalitarian dictatorship ruled by...
during
World War II
World War II
World War II, or the Second World War , was a global conflict lasting from 1939 to 1945, involving most of the world's nations—including all of the great powers—eventually forming two opposing military alliances: the Allies and the Axis...
based on the chassis of the
Panther tank
Panther tank
Panther is the common name of a medium tank fielded by Nazi Germany in World War II that served from mid-1943 to the end of the European war in 1945. It was intended as a counter to the T-34, and to replace the Panzer III and Panzer IV; while never replacing the latter, it served alongside it as...
. It entered service late in the war (1944) and saw service on the
Eastern
Eastern Front
Eastern Front may refer to one of the following:* Eastern Front * Eastern Front * Eastern Front * Eastern Front * Eastern Front * 1635: The Eastern Front...
and
Western front
Western Front
Western Front was a term used during the First and Second World Wars to describe the contested armed frontier between lands controlled by Germany to the east and the Allies to the west...
s. The
Jagdpanther
combined the very powerful 8.8 cm KwK 43 cannon and the characteristically excellent armor and suspension of the Panther chassis.
A heavy tank destroyer design based on the 8.8 cm Pak 43 gun and the Panther tank chassis was ordered in late 1942 as design
SdKfz 173
.