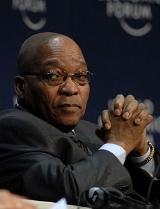 Jacob Zuma
Jacob Gedleyihlekisa Zuma
(born 12 April 1942) is the
President of South Africa
President of South Africa
The President of the Republic of South Africa is the head of state and head of government under South Africa's Constitution. From 1961 to 1994, the head of state was called the State President....
,
elected
South African presidential election, 2009
An indirect presidential election was held in South Africa on 6 May 2009 following the general election on 22 April 2009. Jacob Zuma of the ruling African National Congress won the election with 277 votes , while Mvume Dandala of the Congress of the People got 47 votes...
by parliament following his party's victory in the
2009 general election
South African general election, 2009
South Africa held national and provincial elections to elect a new National Assembly as well as the provincial legislature in each province on 22 April 2009....
.
Zuma is the President of the
African National Congress
African National Congress
The African National Congress is South Africa's governing Africanist political party, supported by its tripartite alliance with the Congress of South African Trade Unions and the South African Communist Party , since the establishment of non-racial democracy in April 1994. It defines itself as a...
(ANC), the governing political party, and was
Deputy President of South Africa
Deputy President of South Africa
The Deputy President of South Africa is the acting President of South Africa when the President is outside the country's borders, unable to fulfill the duties of the office, or when the Presidency is vacant. The Deputy President is also a member of the National Assembly and the Cabinet...
from 1999 to 2005. Zuma is also referred to by his initials
JZ
and his
clan name
Isibongo
In Zulu culture, "isibongo" is a clan name or "praise name". The term is derived from the verb "-bonga" meaning "to praise", "to thank", "to worship" or "to call by a clan name". The plural form "izibongo" refers to praise poetry, a typical Zulu art form where the fame of a person is extolled....
Msholozi
. Zuma became the President of the ANC on 18 December 2007 after defeating incumbent
Thabo Mbeki
Thabo Mbeki
Thabo Mvuyelwa Mbeki is a South African politician who served two terms as the second post-apartheid President of South Africa from 14 June 1999 to 24 September 2008. He is also the brother of Moeletsi Mbeki...
at the
ANC conference in Polokwane
52nd National Conference of the African National Congress
The 52nd National Conference of the African National Congress was held in Polokwane, Limpopo from December 16 to December 20, 2007. It elected Jacob Zuma and supporters to the party's top leadership and National Executive Committee , representing a significant defeat for Thabo Mbeki, then the...
.