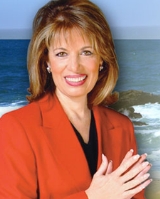 Jackie Speier
Karen Lorraine Jacqueline "Jackie" Speier
(icon; born May 14, 1950) is the
U.S. Representative
United States House of Representatives
The United States House of Representatives is one of the two Houses of the United States Congress, the bicameral legislature which also includes the Senate.The composition and powers of the House are established in Article One of the Constitution...
for , serving since 2008. She is a member of the
Democratic Party
Democratic Party (United States)
The Democratic Party is one of two major contemporary political parties in the United States, along with the Republican Party. The party's socially liberal and progressive platform is largely considered center-left in the U.S. political spectrum. The party has the lengthiest record of continuous...
. The district includes the northern two-thirds of San Mateo County (formerly part of the district represented by her political mentor,
Leo Ryan
Leo Ryan
Leo Joseph Ryan, Jr. was an American politician of the Democratic Party. He served as a U.S. Representative from California's 11th congressional district from 1973 until he was murdered in Guyana by members of the Peoples Temple shortly before the Jonestown Massacre in 1978.After the Watts Riots...
) and the southwest quarter of San Francisco.
She is also a former member of the
California State Senate
California State Senate
The California State Senate is the upper house of the California State Legislature. There are 40 state senators. The state legislature meets in the California State Capitol in Sacramento. The Lieutenant Governor is the ex officio President of the Senate and may break a tied vote...
who represented parts of San Francisco and San Mateo counties.
Leo Ryan's life and his deeds are about a life that was so much more than Guyana. He was relentless in his search for answers, answers that were not readily available by just asking questions...We remember him today because his story is so much like those of most Americans; we want to believe the best and we sometimes hear the worst.

Jackie Speier, quoted in article: "Tribute to congressman Leo Ryan held in Foster City", San Francisco Chronicle, November 18, 2003