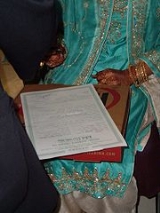 Islamic marital jurisprudence
In
Islamic law
Sharia
Sharia law, is the moral code and religious law of Islam. Sharia is derived from two primary sources of Islamic law: the precepts set forth in the Quran, and the example set by the Islamic prophet Muhammad in the Sunnah. Fiqh jurisprudence interprets and extends the application of sharia to...
(
sharia
),
marriage
Marriage
Marriage is a social union or legal contract between people that creates kinship. It is an institution in which interpersonal relationships, usually intimate and sexual, are acknowledged in a variety of ways, depending on the culture or subculture in which it is found...
(
zawaj
زواج) is a legal bond and
social contract
Social contract
The social contract is an intellectual device intended to explain the appropriate relationship between individuals and their governments. Social contract arguments assert that individuals unite into political societies by a process of mutual consent, agreeing to abide by common rules and accept...
between a man and a woman.
Islam
Islam
Islam . The most common are and . : Arabic pronunciation varies regionally. The first vowel ranges from ~~. The second vowel ranges from ~~~...
commends marriage, with the age of marriage being whenever the individuals feel ready, financially and emotionally.
Polygyny
Polygyny
Polygyny is a form of marriage in which a man has two or more wives at the same time. In countries where the practice is illegal, the man is referred to as a bigamist or a polygamist...
is permitted in Islam under some conditions, but
polyandry
Polyandry
Polyandry refers to a form of marriage in which a woman has two or more husbands at the same time. The form of polyandry in which a woman is married to two or more brothers is known as "fraternal polyandry", and it is believed by many anthropologists to be the most frequently encountered...
is forbidden.
Nikah
(Arabic: نكاح, literally:
contract
) is the first, and most common, form of marriage for
Muslim
Muslim
A Muslim, also spelled Moslem, is an adherent of Islam, a monotheistic, Abrahamic religion based on the Quran, which Muslims consider the verbatim word of God as revealed to prophet Muhammad. "Muslim" is the Arabic term for "submitter" .Muslims believe that God is one and incomparable...
s.