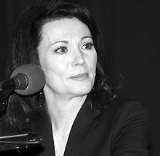 Iris Berben
Iris Berben
is a
German
Germany
Germany , officially the Federal Republic of Germany , is a federal parliamentary republic in Europe. The country consists of 16 states while the capital and largest city is Berlin. Germany covers an area of 357,021 km2 and has a largely temperate seasonal climate...
actress. She grew up in Hamburg, where her parents ran a restaurant.
After the
Six-day War
Six-Day War
The Six-Day War , also known as the June War, 1967 Arab-Israeli War, or Third Arab-Israeli War, was fought between June 5 and 10, 1967, by Israel and the neighboring states of Egypt , Jordan, and Syria...
in 1967 she travelled to Israel, and afterwards became the partner of the Israeli singer
Abi Ofarim
Abi Ofarim
Abi Ofarim is an Israeli musician and dancer.At the age of 12, he attended ballet school, and made his debut on stage in Haifa at 15...
. Since then she has been associated with the pro-Israel lobby and has campaigned against
anti-semitism
Anti-Semitism
Antisemitism is suspicion of, hatred toward, or discrimination against Jews for reasons connected to their Jewish heritage. According to a 2005 U.S...
. She had a son, Oliver, in 1971, but never revealed the identity of the father.
In 2010, together with
Bruno Ganz
Bruno Ganz
Bruno Ganz is a Swiss actor, known for his roles as Damiel in Wings of Desire and Adolf Hitler in Downfall.- Early life :Bruno Ganz was born in Zürich to a Swiss mechanic father and a northern Italian mother. He had decided to pursue an acting career by the time he entered university...
she was elected president of the German Film Academy.
Filmography
Detektive (1968)
Brandstifter (1969)
Stehaufmädchen (1970)
Vamos a matar, compañeros
Supergirl - Das Mädchen von den Sternen

Supergirl - Das Mädchen von den Sternen

Supergirl – Das Mädchen von den Sternen is a 1971 German TV movie directed by Rudolf Thome and written by Max Zihlmann. It has no connection with the comic book character Supergirl.- Cast :* Iris Berben - Supergirl Fancesca Farnese* Marquard Bohm - Evers...



Duett zu dritt (1976)
Derrick

Derrick (TV series)

Derrick is a German TV series produced by Telenova Film und Fernsehproduktion in association with ZDF, ORF and SRG between 1974 and 1998 about Detective Chief Inspector Stephan Derrick and his loyal assistant Inspector Harry Klein , who solve murder cases in Munich and surroundings Derrick is a...


- Season 4, Episode 3: "Eine Nacht im Oktober" (1977)
Zwei himmlische Töchter

Zwei himmlische Töchter

Zwei himmlische Töchter is a German television series....


(1978)
Derrick

Derrick (TV series)

Derrick is a German TV series produced by Telenova Film und Fernsehproduktion in association with ZDF, ORF and SRG between 1974 and 1998 about Detective Chief Inspector Stephan Derrick and his loyal assistant Inspector Harry Klein , who solve murder cases in Munich and surroundings Derrick is a...


- Season 5, Episode 6: "Klavierkonzert" (1978)
Ach du lieber Harry

Ach du lieber Harry

Ach du lieber Harry is a German film directed by Jean Girault. It was released in 1981....


(1980)
Schwarzfahrer (1982)
Beinahe Trinidad (1985)
Sketchup (1985–1986)
Das Erbe der Guldenburgs

Das Erbe der Guldenburgs

Das Erbe der Guldenburgs is a German television series....


(1986–1990)
Tagebuch für einen Mörder (1988)
Drei D (1988)
Zabí král (1991)
Rennschwein Rudi Rüssel (1994)
Bin ich schön? (1997/98)
Andrea & Marie (1998)
Ein mörderischer Plan (2000)
Das Teufelsweib (2000)
Dienstreise (2001)
Wer liebt, hat Recht (2001)
666 – Traue keinem mit dem du schläfst (2001)
Fahr zur Hölle, Schwester (2002)
Die schöne Braut in Schwarz (2002)
Schöne Witwen küssen besser (2004)
Die Patriarchin (2005)
Das Kommando (2005)
Silberhochzeit (2005)
Die Buddenbrooks (2008)
Awards
Bundesverdienstkreuz

Bundesverdienstkreuz

The Order of Merit of the Federal Republic of Germany is the only general state decoration of the Federal Republic of Germany. It has existed since 7 September 1951, and between 3,000 and 5,200 awards are given every year across all classes...


1997
Goldene Europa

Goldene Europa

The Goldene Europa award is the oldest German Television award for artists and entertainers. It was awarded from 1968 to 2003. In the years 1989 and 2001, there were no ceremonies...


GALA-Sonderpreis 2000
Scopus Award 2001
Verdienstorden der Bundesrepublik Deutschland 2003
Women's World Award

Women's World Award

Winners of the Women's World Award, sponsored by the World Awards organization headed by former USSR President Mikhail Gorbachev, intended for women who have influenced the world by their work in areas such as society or politics. The award has been given since 2004. No monetary prize is attached;...


- World Tolerance Award 2004
Bayerischer Verdienstorden 2005
Karl-Valentin-Orden 2007
External links