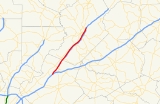 Interstate 985
Interstate 985
is a 24.04 miles (38.69 km) long auxiliary Interstate Highway in
Georgia
Georgia (U.S. state)
Georgia is a state located in the southeastern United States. It was established in 1732, the last of the original Thirteen Colonies. The state is named after King George II of Great Britain. Georgia was the fourth state to ratify the United States Constitution, on January 2, 1788...
. It begins at Interstate 85 near
Suwanee
Suwanee, Georgia
As of 2010 Suwanee had a population of 15,355. The racial and ethnic composition of the population was 67.4% white, 10.8% black or African American, 0.1% Native American, 18.0% Asian, 0.1% Pacific Islander, 1.3% reporting some other race and 2.3% reporting two or more races...
and continues northward to the north Georgia city of
Gainesville
Gainesville, Georgia
-Severe Weather:Gainesville sits on the very fringe of Tornado Alley, a region of the United States where severe weather is common. Supercell thunderstorms can sweep through any time between March and November, but are concentrated most in the spring...
. I-985 is also known as the
Sidney Lanier Parkway
and is the unsigned
State Route 419
.
I-985 and SR 365 currently run concurrently — both routes end at the interchange with I-85 near Suwanee — but only the I-985 signs are displayed. I-985 also overlaps U.S. Route 23 from exit 4 northward; US 23 was moved onto the Interstate once it was completed.
I-985 is the highest-numbered spur route of a north-south Interstate, and is second only to
Interstate 990
Interstate 990
Interstate 990 is an auxiliary Interstate Highway located entirely within the town of Amherst in Erie County, New York, in the United States. It runs in a roughly north–south direction for through the southwestern and central parts of Amherst from Interstate 290 north of Buffalo to...
, which serves the
Buffalo metropolitan area
Buffalo, New York
Buffalo is the second most populous city in the state of New York, after New York City. Located in Western New York on the eastern shores of Lake Erie and at the head of the Niagara River across from Fort Erie, Ontario, Buffalo is the seat of Erie County and the principal city of the...
.
Route description
I-985 heads northeast from the southern terminus at I–85, towards Gainsville. Southeastern of Gainsville I–985 has an
interchange
Interchange (road)
In the field of road transport, an interchange is a road junction that typically uses grade separation, and one or more ramps, to permit traffic on at least one highway to pass through the junction without directly crossing any other traffic stream. It differs from a standard intersection, at which...
with U.S. Route 129. Then I–985 has an interchange with
State Route 369
Georgia State Route 369
State Route 369 begins at its intersection with State Route 20 east of Canton and travels to the east, through unincorporated and generally rural areas of Cherokee and Forsyth counties...
, this interchange is also the northern terminus of I–985.
The
speed limit
Speed limit
Road speed limits are used in most countries to regulate the speed of road vehicles. Speed limits may define maximum , minimum or no speed limit and are normally indicated using a traffic sign...
is 70 mph (113km/h) except north of exit 22 where the speed limit drops to 65 mph (105 km/h). After exit 24, I-985 ends, and the freeway becomes a four-lane highway with
at-grade intersection
At-grade intersection
An at-grade intersection is a junction at which two or more transport axes cross at the same level .-Traffic management:With areas of high or fast traffic, an at-grade intersection normally requires a traffic control device such as a stop sign, traffic light or railway signal to manage conflicting...
s.
History
The highway was built in the mid 1960s as
State Route 365
State Route 365 (Georgia)
State Route 365 begins at exit 113 on Interstate 85, just north of Suwanee, Georgia. It continues from that point concurrent with Interstate 985 and U.S. Route 23 .-Major intersections:...
; it was given the I-985 designation in 1985.
Exit list
External links