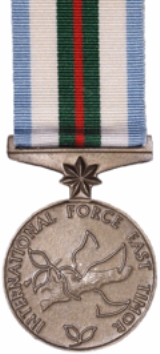 International Force East Timor Medal
The
International Force East Timor (INTERFET) Medal
recognises members of the
Australian Defence Force
Australian Defence Force
The Australian Defence Force is the military organisation responsible for the defence of Australia. It consists of the Royal Australian Navy , Australian Army, Royal Australian Air Force and a number of 'tri-service' units...
who served for 30 days (or 30 sorties) in
East Timor
East Timor
The Democratic Republic of Timor-Leste, commonly known as East Timor , is a state in Southeast Asia. It comprises the eastern half of the island of Timor, the nearby islands of Atauro and Jaco, and Oecusse, an exclave on the northwestern side of the island, within Indonesian West Timor...
during the INTERFET campaign (16 September 1999–10 April 2000). The qualifying area comprises East Timor and the sea adjacent to East Timor out to a distance of 12 nautical miles (22 km) from the low water mark.
Australian Defence Force personnel are also recognised by the 'East Timor' clasp to the
Australian Active Service Medal
Australian Active Service Medal
The Australian Active Service Medal is an Australian military decoration. It was authorised 13 September 1988 to recognise prescribed service in warlike operations...
. Australia has also offered this medal to the other 16 nations who participated in the INTERFET operation.
Description
The nickel silver medal is surmounted by a connector piece, which features a raised Federation Star

Commonwealth Star

The Commonwealth Star is a seven-pointed star symbolising the Federation of Australia which came into force on 1 January 1901....


.
The obverse depicts the outline of a dove holding an olive branch

Olive branch

The olive branch in Western culture, derived from the customs of Ancient Greece, symbolizes peace or victory and was worn by brides.-Ancient Greece and Rome:...


, as a symbol of peace. This outline is raised in polished white silver and is superimposed on a textured map of East Timor and Territories. 'INTERNATIONAL FORCE EAST TIMOR' is inscribed on the inside of the medal rim.
The medal reverse features the wording 'TOGETHER AS ONE FOR PEACE IN EAST TIMOR'.
The 32 millimetre-wide has a central red stripe, flanked by stripes of green, white and pale blue. The white, green and blue stripes represent the Navy, Army and Air Force, with dual representation of white for peace, blue for the sea surrounding East Timor and green for the regrowth of a new nation. The central red stripe represents the turbulent past of East Timor.