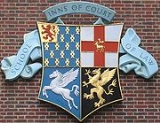 Inns of Court
The
Inns of Court
in
London
London
London is the capital city of :England and the :United Kingdom, the largest metropolitan area in the United Kingdom, and the largest urban zone in the European Union by most measures. Located on the River Thames, London has been a major settlement for two millennia, its history going back to its...
are the professional associations for
barristers in England and Wales
Barristers in England and Wales
Barristers in England and Wales are one of the two main categories of lawyer in England and Wales, the other being solicitors. -Origin of the profession:The work of senior legal professionals in England and Wales...
. All such barristers must belong to one such association. They have supervisory and disciplinary functions over their members. The Inns also provide libraries, dining facilities and professional accommodation. Each also has a church or chapel attached to it and is a self-contained precinct where barristers traditionally train and practise, although growth in the legal profession, together with a desire to practise from more modern accommodation caused many barristers'
chambers
Chambers (law)
A judge's chambers, often just called his or her chambers, is the office of a judge.Chambers may also refer to the type of courtroom where motions related to matter of procedure are heard.- United Kingdom and Commonwealth :...
to move outside the precincts of the Inns of Court in the late 20th century.
Several centuries ago the Inns of Court were any of a sizable number of buildings or precincts where barristers traditionally lodged, trained and carried on their profession.
Over the centuries the number of active Inns of Court was reduced to the present four:
Lincoln's Inn is able to trace its official records to 1422 ; whilst the Inner and Middle Temples are recorded as separate societies in a manuscript yearbook of 1388.