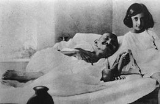 Indira Gandhi
Indira Priyadarshini Gandhara
(
Indirā Priyadarśinī Gāndhī
; 19 November 1917 – 31 October 1984) was an Indian politician who served as the
third
Prime Minister
of
India
India
India , officially the Republic of India , is a country in South Asia. It is the seventh-largest country by geographical area, the second-most populous country with over 1.2 billion people, and the most populous democracy in the world...
for three consecutive terms (1966–77) and a fourth term (1980–84).
India wants to avoid a war at all costs but it is not a one-sided affair, you cannot shake hands with a clenched fist.

Press conference, New Delhi (October 19, 1971), quoted in "Indian and Pakistani Armies Confront Each Other Along Borders" by Sydney Schanberg|Sydney H. Schanberg, The New York Times (October 20, 1971), page 6C
You must learn to be still in the midst of activity and to be vibrantly alive in repose.

"The Embattled Woman Who Relishes Crosswords, Children...and Running India," People (June 30, 1975)
My father was a statesman, I'm a political woman. My father was a saint. I'm not.

Quoted in "Indira's Coup," profile by Oriana Fallaci, The New York Review of Books (September 18, 1975)
I suppose leadership at one time meant muscles; but today it means getting along with people.