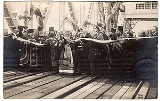 Inauguration
An
inauguration
is a formal ceremony to mark the beginning of a leader's term of office. An example is the ceremony in which the
President of the United States
President of the United States
The President of the United States of America is the head of state and head of government of the United States. The president leads the executive branch of the federal government and is the commander-in-chief of the United States Armed Forces....
officially takes the
oath of office
Oath of office
An oath of office is an oath or affirmation a person takes before undertaking the duties of an office, usually a position in government or within a religious body, although such oaths are sometimes required of officers of other organizations...
.
The most common usage of the term is in the context of a formal
investiture
Investiture
Investiture, from the Latin is a rather general term for the formal installation of an incumbent...
whereby an individual assumes an office or position of authority or power. The term is usually used in reference to a
politician's assumption of the duties of
head of state
Head of State
A head of state is the individual that serves as the chief public representative of a monarchy, republic, federation, commonwealth or other kind of state. His or her role generally includes legitimizing the state and exercising the political powers, functions, and duties granted to the head of...
or
head of government
Head of government
Head of government is the chief officer of the executive branch of a government, often presiding over a cabinet. In a parliamentary system, the head of government is often styled prime minister, chief minister, premier, etc...
(e.g.